By Jill Henderson
From the plains of the Midwest, a new and surprising trend in the world of healthy local food is gaining ground thanks to Sean Sherman, an Oglala Lakota Sioux and founder of The Sioux Chef, a nonprofit organization aiming to revive the traditional Native American diet through hands-on education and the use of indigenous ingredients.
I first heard Sherman speak at the Missouri Organic Association conference where he was keynoting at the event's locally produced organic dinner. He took the stage and held 600 people rapt with attention as he spoke with passion and wisdom about Native American history and their foodways and the need to rediscover the indigenous foods that nourished native peoples around the world for hundreds of thousands of years.
A Different Path
Sherman grew up on and around the Pine Ridge Indian Reservation. This vast, almost wild stretch of American High Plains is located in the southwestern corner of South Dakota. The reservation is flanked to the north by the stark beauty of the Badlands and to the northwest by the ponderosa-topped Paha Sapa (Black Hills).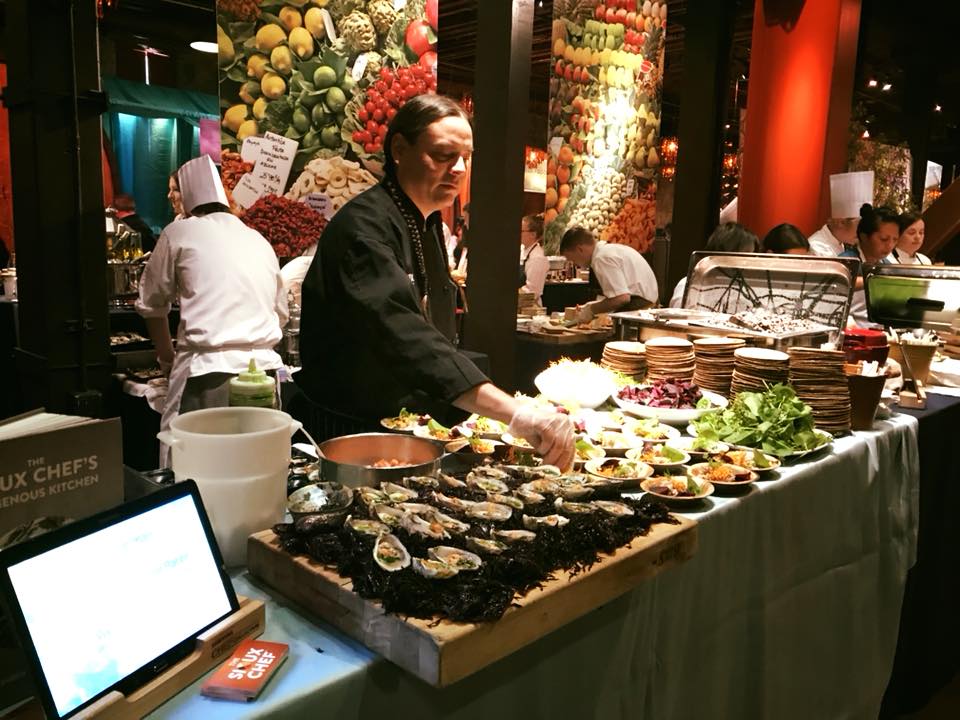 As a child, Sherman ate what everyone around him ate — a standard fare prepared with government commodity rations handed out monthly to those living on the reservation as part of a food allotment program going back to the mid-1800s. Sherman points out that while the variety of foods in the commodity allotments are a little better today than they were when he was growing up, they never contain fresh fruits, vegetables or meats and were never meant to be a "nutritional program," but rather an emergency ration.
According to Sherman (and multiple government nutrition research sources) many of the health problems Native Americans — and all Americans, for that matter — have are directly related to post-colonial diets that are increasingly made up of canned meat, fruit and vegetables, a dizzying array of premade convenience foods, white flour, white sugar, excess salt, processed cheese, hydrogenated fats and powdered milk. Not to mention the modern array of GMOs, preservatives, artificial sweeteners, flavorings and fillers that go into commercial foods. These foods are known to lead to high blood pressure, diabetes, obesity and many other food-related illnesses.
Yet, Native Americans often suffer the effects of such a diet exponentially, with diabetes affecting nearly 60 percent of the indigenous population in the United States.
In 2000, Sherman was a young chef studying and experimenting with a wide array of international cuisines. As a chef, he was trained in the creative use of ingredients and healthy cooking. One day it dawned on Sherman that he didn't know anything about traditional Lakota food. He laughs when he recounts the story of the day he began to wonder why "Indian tacos" tasted so much like Mexican food. If you are unfamiliar with Indian or Navajo tacos, just envision a Mexi-American tostada with a deep-fried round of white bread holding ground beef and cheese instead of a crunchy corn tortilla.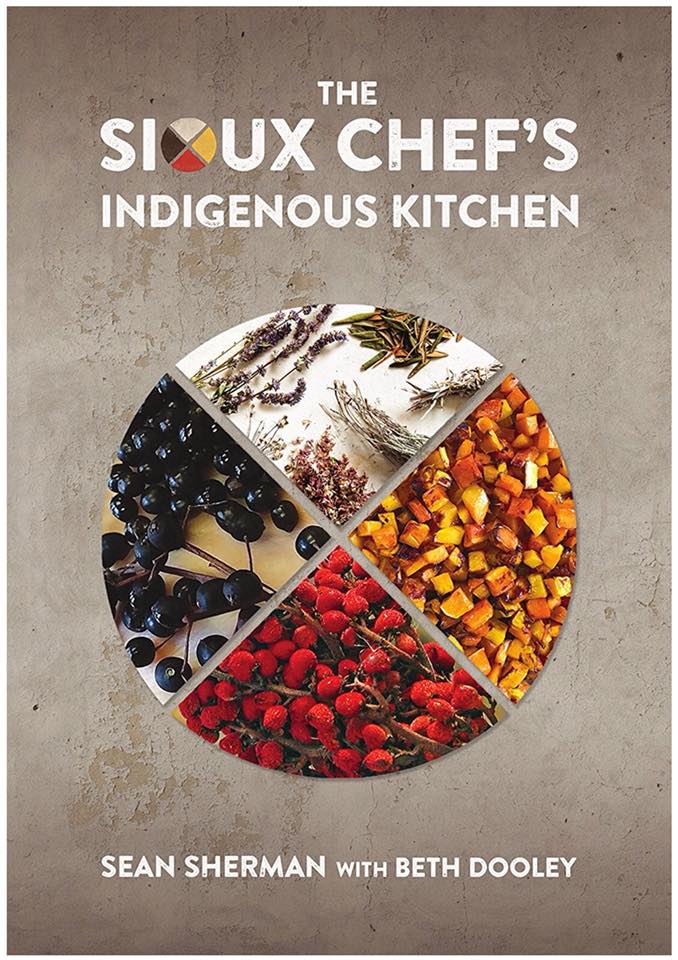 For Native Americans, fry bread became a staple of their diet as early as the 1850s. They adopted fry bread because their native food sources were either being hunted out by settlers, fur traders and soldiers or because they were steadily being denied access to their historic hunting and fishing grounds.
As the Sioux were pushed into tighter and tighter quarters, they were forced to accept government food rations that consisted primarily of wheat flour, lard, salt and sugar. Not being able to move with the seasons to hunt and gather wild grains and plants for food, the Indians mimicked the soldiers and settlers around them using what they were given to subsist on. These and other incredibly unhealthy ingredients and foods became the norm in their new sedentary lives, and this included fry bread.
Indian tacos, fry bread and commodities are the food that Chef Sherman recalls from his childhood days. "I couldn't just go online and order The Joy of Native American Cooking to find out what my ancestors were eating," he says.
Living in Harmony With the Land
As you might imagine, Native Americans were well-versed in using a wide array of natural resources available to them for everything in their lives including food, tools, clothes, shelter, medicine, music, art and so much more.
Native Americans were actively involved in the food chain, managing huge swaths of land with fire to reduce underbrush in forests and ensure lush grasses and forbs on the plains for bison, deer and fowl.
While hunting and gathering were definitely a way of life for thousands of semi-nomadic tribes, almost every indigenous culture we know of practiced various forms of agronomy. Not only did Native Americans breed and cultivate a wide array of what we now consider modern agricultural crops, they also intentionally selected and re-seeded innumerable species of indigenous roots, tubers, grains, seeds, rice, nuts and fruits in wild settings where they knew they would grow well on their own without the need for constant tending.
It wasn't long after first contact with Europeans that the destruction of indigenous Americans and their cultures began in earnest. Native Americans were targeted for destruction through war, unfair treaties, displacement from ancestral homelands and diseases introduced to them by foreign invaders, as well as the intentional mass slaughter of the American buffalo and other mammal species that were their primary source of protein. They had no choice but to fight to save themselves and their way of life.
Indians were banned from using their traditional social structures, their language, medicine and spiritual practices. They were also subjected to endless physical, social, emotional and medical atrocities and disinformation campaigns, which according to today's standards, would be branded as nothing less than genocide. "War on indigenous food made it much easier to subdue the native population," said Sherman. And rations, food allotments and bans or restrictions on food were the norm. Commodities are still handed out to those living on reservations. Sherman says that "oppression food" like this is high in saturated fats and salt and low in nutrition, which causes debilitating diseases like diabetes, for which Native Americans had no previous history.
Despite this tragic history, many North American tribes live on. Today, there are 567 federally recognized tribes in the United States (231 of which are in Alaska) encompassing 5.6 million people or 2 percent of the American population.
In 2003, shortly after 34-year-old Chef Sherman finished culinary school he made his way to Mexico for a visit that lasted much longer than he had anticipated. He found himself living in a small village of indigenous Huichol subsistence farmers in the north-central mountains of the Sierra Madre Occidental. In them, Sherman saw much of his own Lakota culture.
"Even their humor was the same," he said. Their simple, healthy foods, prepared by hand in the traditional way, made Sherman think about his own long-lost indigenous food heritage.
Having studied foodways from various cultures all over the world, Sherman wanted to focus his attention on the original foods of his own people. Like a Lakota superhero stepping out of a phone booth ready to defend his people and history, Sherman transformed into The Sioux Chef.
"We should be the answer to our ancestor's prayers to be healthy … and carry on this knowledge to the future generations and to really make a difference and to really stand strong. Our history is Native American history."
The Sioux Chef began as a catering company using indigenous foods as their only ingredients. Dishes were prepared with wild plants and meats known to be utilized by various Native American tribes with no wheat flour, dairy or modern sweeteners. Even beef and chicken were banned from the menu. In their place were bison, elk, deer, fish, quail and pheasants. Greens and pottage came from amaranth, nettles, cactus, cattails and hundreds of others. Wild fruits, nuts, mushrooms, seeds, wild rice, ground and tuberous roots like camas and timpsula (a wild turnip also known as Indian bread root) among thousands of other edibles that were abundantly available to pre-contact Native Americans. Fragrant plants and their parts like juniper, pine, sage, wild oregano and mints not only flavored food but often acted as antibacterial and anti-fungal agents that helped preserve them and prevent foodborne illnesses.
Sherman said that as he gained experience as a chef in the Minneapolis area preparing dishes from all over the world, he realized that there were so few representations of Native American foods in the restaurant industry that it made sense for him to rediscover his own culinary heritage.
It wouldn't be long before he was traveling to various places throughout North and South America working with other Native chefs, sharing and learning more about indigenous ingredients, techniques and dishes.
"To understand what Native American food really is just looking back at history and looking back at regions and understanding how people utilized wild foods and agriculture and the wild game that was there, and the cooking techniques they utilized, food preservation techniques."
As he delved into the history of the Lakota people, Sherman couldn't escape learning about the history and foodways of other North American tribes as well. As a chef, he found the diversity of foods, methods of preparation and preservation both refreshing and exciting.
At every opportunity, Sherman points out the diversity that exists within the many borders of the 2.9 million Native Americans in the United States.
"Imagine if every tribe across the country had at least one restaurant that focused entirely on its own unique indigenous food and flavors," he said. "It would be like a smorgasbord of eating." With that in mind, Sherman set out to create and serve delicious modern dishes based entirely on the indigenous foods of North American Indians and, at that time, specifically those from the Minnesota and Dakota territories.
In 2014, Sherman and Dana Thompson, his partner and co-owner of The Sioux Chef and a descendant of the Sisseton-Wahpeton and Mdewakanton Dakota tribes, turned their attention to creating not only healthy indigenous food, but a movement that would utilize it to bring people together, heal long-standing wounds, reinvigorate fading Native American traditions and history, and ultimately, reinvent Indian economies.
In 2017, Sherman and Minneapolis chef Beth Dooley teamed up to author The Sioux Chef's Indigenous Kitchen cookbook, which recently won the prestigious 2018 James Beard Foundation Book Award Best American Cookbook.
The Sioux Chef: Native Foodways
Sherman soon found himself traveling across America and abroad cooking, teaching, reaching out and learning more about indigenous foodways of other tribes and nationalities.
"I've been conducting educational food labs all over the country and in other parts of the world in order to draw attention to and interest in the indigenous food cultures of all people," he said.
The immediate goal had been to create a business that would "revitalize and reclaim North American Cuisine and an important culinary culture long buried and often inaccessible," he said. "But the bigger goal is to reteach indigenous foodways, create indigenous food access and return indigenous foods back to the people."
These goals and more are being accomplished through NATIFS (North American Traditional Indigenous Food Systems) a nonprofit organization organized under The Sioux Chef.
"The very first brick and mortar Indigenous Food Lab is being built in Minneapolis, and we hope to have it completed by early 2019," he said. "It will have a nonprofit restaurant and training center focused on research and development; new foods and menus and ingredients. We want to work with tribal communities to develop satellite food businesses and indigenous food hubs across America and worldwide. This building will be the center of all our efforts as they relate to indigenous food. We'll have a nonprofit restaurant, which is very unusual in the food business. It will be an important part of NATIFS' mission to train chefs in the various types of native foods available and how to prepare them. We'll have classrooms, guest chefs and educational programs. Everything from native foods, to seeds, to history — if it has something to do with indigenous foodways, we'll do it," Sherman explained.
Sherman says the goal is to peel back the colonial influence on food.
"We'll start with this facility and hopefully branch out across the country into multiple tribal areas to help them open their indigenous kitchens, restaurants, food trucks or whatever. We also want to encourage the production of indigenous foods," he said. "We already work with a number of Native American farmers who provide us with these types of ingredients and more, but we hope to encourage and develop numerous indigenous food hubs all across the country. And although our mission is to establish Native American food hubs, we also buy from and encourage non-native local producers, too. We really love all forms of local food and agricultural enterprises that want to be involved in indigenous foods, seed saving, permaculture, food forests and the like. If it has to do with indigenous food, we're interested."
Check out the videos at The Sioux Chef website, and keep up to date with events on Facebook.
This article appeared in the November 2018 issue of Acres U.S.A.magazine.
Jill Henderson is an artist, author and organic gardener. She is editor of Show Me Oz, a blog featuring articles on gardening, seed saving, nature ecology, wild edible and medicinal plants and culinary herbs. She has written three books: The Healing Power of Kitchen Herbs, A Journey of Seasons: A Year in the Ozarks High Country and The Garden Seed Saving Guide.