A full-service approach to CEA 
Sponsored By: Spacesaver
While a multi-acre plot spanning the countryside is what comes to mind when most hear of a farming operation, some growers do not have access to the amount of real estate necessary to support this functionality. For these individuals, an efficient and productive alternative is available – controlled environment agriculture. 
Controlled environment agriculture (CEA) includes indoor agriculture and vertical farming practices that allow for a technology-based approach to cultivation. By optimizing the available space within an indoor grow facility through efficient storage and operational systems, users can maximize their yield and their investment in the real estate and systems involved.  
What This Approach Entails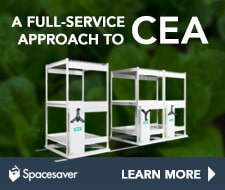 Unlike outdoor operations whose useable space sprawls out on the horizontal plane, indoor grow facilities focus on available space on a vertical axis. To help create an optimal indoor grow environment, durable and versatile vertical racking and shelving are used to provide long-term support for plants, pots, and supplies. Unlike traditional racking, vertical racking is designed for strength and ultimate flexibility by having welded horizontal bracing instead of diagonal bracing. This feature allows for other horticulture accessories such as lighting, HVAC, and irrigation to be easily integrated within the system.  
Furthermore, vertical racking and shelving offer sturdy support in static applications, as well as in mobile applications through integration with high-density mobile shelving (HDMS) systems. Utilizing mobile shelving, growers can reduce wasted aisle space and free up more of their footprint for increased access and yield. Vertical racking can be used as standalone shelving or mobilized on carriages for maximum space efficiency. The system was designed to accommodate indoor agriculture needs where Standard and Knock Down pallet racking do not meet the exact customer needs or space requirements. 
As the intent of employing vertical farming solutions is to maximize available vertical space, users will require a safe and effective method to reach plants residing on the second tier of the system or higher. There are many potential options to accomplish this feat – rolling ladder, scissors lift, etc. – with some being more efficient and secure than others. However, by employing a solution like Spacesaver's GROW Crosswalk accessory, users have access to a raised working station that securely integrates with new and existing racking and can be utilized during all stages of indoor cultivation. Unlike a ladder or lift, the GROW Crosswalk remains secured in place for the length of the aisle while you and your colleagues work.  
Summary 
Even though your surroundings may not be teeming with lush farmland, there are still viable options for growing a plentiful harvest. By utilizing controlled environment agriculture solutions like those provided by Spacesaver Corporation, you can optimize your indoor grow facility's available vertical space, maximize your yield, and boost your bottom line.  
Check out the following link to learn more about Spacesaver's line of indoor agriculture solutions and how the can help you grow more in less space. https://www.spacesaver.com/products/vertical-grow-racks/