By Kelsey Jorissen
This article first appeared in the July 2019 issue of Acres U.S.A. Magazine.
Earlier this month, I had the pleasure of being interviewed by a child in my community. She was working on a project for school where she could choose anything she wanted to focus on, and she chose to study women in agriculture and how to open her own farmstand. So she chose me, a first-generation female farmer who raises pastured chickens and vegetables using permaculture methods on five acres in southeastern Wisconsin. To say I was touched was an understatement; I felt like I had won a ticket to the moon.
After a short tour of the farm, we chatted in my living room. Her first and most important question was, "How do you find customers for your farm?" I stopped to think about it. Then it hit me. We find all of our customers for our farm online.
We have never put a physical ad in a paper, we have never been to a chamber of commerce meeting and we haven't done any networking events. Mind you, these are all perfectly okay things to do to make yourself more "findable" for customers, but we don't have the time for them. We have a farm to run.
My answer to her was a smorgasbord of all the ways we have "plugged in our farm" so that the right customers — the ones who care about our farming practices and are willing to pay our prices — appear at our farm stand with money in hand.
As I explained our farm's online methodology to this ninth-grade Generation Z'er in my living room, she totally got it. She didn't bat an eye that this was how businesses find customers nowadays — this is completely normal to her and the entire Generation Z population. Heck, it's normal for me, a millenial, and it's even become the norm for my parents, two class-act baby boomers.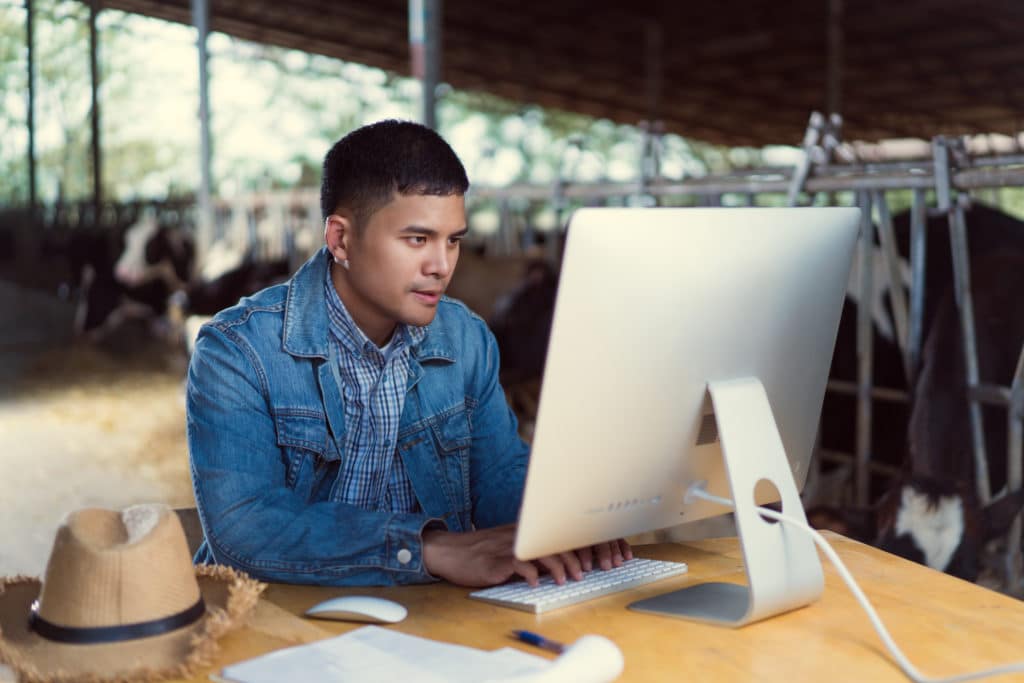 HOW CONSUMERS ARE EVOLVING
Let's talk numbers. In 2018, over half the global population was online. E-commerce made up 15 percent of total sales in 2018, and it continues to grow despite retail sales stagnating.
Now let's discuss online users by generations and their purchasing power. Generation Z has surpassed millenials in size; they make up nearly a third of the global population, and 84 percent of them are active online. About 97 percent of millenials are online.
Another extremely important point to make is that 60 percent of people say they're willing to pay a higher price for sustainably made goods — 74 percent among millennials. This is a massive group of young people who are shopping online and are willing to pay the higher prices of your high-quality food.
Consumers are becoming increasingly conscious of how food is grown and raised, as demonstrated in how buzzwords like "sustainable" and "regenerative" are popping up on the websites of companies that don't even sell food. The organic sector grew by 6.4 percent in 2017, six times faster than the overall food market. Customers want more good food grown in a good way.
But these numbers are only a piece of the pie as to why your farm needs to have an online presence. The final piece came to me as I was sitting in a coffee shop in Milwaukee. My dear friend sat down in a huff and threw up her hands. "I spent a solid hour researching online for local farms that sell pastured, whole chicken this morning, and I came up completely short. All of their websites were so out of date, they didn't include any info on how they raise their chickens or they literally didn't have a website! Like how do you expect me to email you or call, let alone PAY you, if your website isn't even accurate?!"
Now, I knew that there were at least four farms local to us that sold pastured whole chicken, but that's because I'm a farmer and I've networked with these farmers. I decided to put on my consumer hat and got online to see what I could find. The results were abysmal. Some had websites that looked like they were born on the first computer ever to see the internet, some had absolutely no pictures or even an "About Me" page and none of them had a place to opt-in and stay updated on what's happening on the farm.
We lovers of the land work hard, and I can see why establishing a solid online presence can feel like a non-starter when you're mucking barns, planting cover crops and racing to keep up with harvesting the snap peas. But when I put myself in my friend's shoes, I completely saw her point.
If I hear about an interesting company or organization in passing conversation, I immediately turn to the web to research them and to view their products or "About" page. If their website is haphazard, doesn't have the info I need or hasn't been updated in months … I pull a faster exit than when an angry sow makes to break my legs against the fence. I know I'm not the only one who does this.
Take a moment and ask yourself how you made your last five purchases. I'll bet my broody hen that the majority of those were online. We live in a time now where people learn about companies online, experience their branding on social media, grow to trust them based on their online presence and ultimately purchase their products on the internet. Your farm is no different.
Consumers have evolved with the rise of the internet, and farmers have to do the same. Without a strong online presence, potential buyers pass us by or are left frustrated. This is exactly where we as farmers are failing our perfect customers.
HOW TO WIN OVER THE CONSCIOUS CONSUMER
Simon Simek said it best in his book Start With Why: "People don't buy what you do; they buy why you do it." Customers begin to trust you when they are let in on your "why." You need to give them the chance to fall in love with your "why" by having a solid online presence.
Allow me to cut through the haze and give you a simple framework on what a solid online presence looks like, where to achieve it, and ballpark prices.
Use a logo
Have a logo that you can use across social media platforms, including on signage for a roadside farm stand or at farmers' markets. You can create these for free on DIY sites like Canva (canva.com) or for as little as $5 on sites like Fiverr (fiverr.com).
Post photos
Have pictures of you and your farm to post on your website and social media platforms. This can be free if you get someone to take them on your phone, or you can barter with a local photographer to take some professional ones. If push comes to shove, there are also great free stock photo sites you can pull from such as UnSplash (unsplash.com) and Pexels (pexels.com).
Create an About page
Keep a clean and uncluttered website that includes an "About" page, a how to find you and contact you page, what products you sell, and how your products are raised or grown. I've been around the block on DIY websites, and Weebly (weebly.com) is by far the best for beginners. It has clean, beautiful drag-and-drop templates with pricing ranging from free to $300. Just be sure to purchase your domain from GoDaddy (godaddy.com) instead of Weebly — this will be much cheaper in the long run.
Keep a blog
Publish a blog on your website that posts at least twice a month on what's happening on your farm. Having a blog is included in the website cost.

Send an e-newsletter
Establish an email marketing account with an email opt-in posted on your website so you can gather potential customer emails and send them updates as needed. This is free for up to 2,000 subscribers on MailChimp (mailchimp.com).
Offer online shopping
Create an online shopping cart where customers can buy your CSA shares, purchase tickets to a workshop or event, or reserve produce for pickup. Gumroad (gumroad.com) is a free embeddable shopping cart that charges only 5 percent to cover credit card and transfer fees. Weebly also has a shopping cart built into its Business and Pro plans.
Be visible on social media
Maintain an Instagram account that posts at least every three days. This is free.
Keep a Facebook page that posts at least once a week. This is also free.
This is the most basic framework you can create to have a trustworthy online presence for your perfect customers. The best part is that it costs you next to nothing to implement but has the ability to reap massive amounts of profit for your farm.
What I also love about this basic framework is that it can take as little as one or two days to set up. From there you can spend just 15 to 30 minutes a day maintaining it. That's less time than I spend doing morning chores on the farm!
Within this basic framework, you are given ample opportunity to share your "why" with potential buyers so that they turn into loyal customers who spend their money with you over and over again. There are so many "why's" on a farm that when you stop to think about it, you'll have blogs and captions to write for the rest of your life. Why do you feed your livestock a certain way? Why do you raise your livestock a certain way? Why do you plant a certain crop? Why do you compost? Why do you use certain brands of tools on the farm? Why do you host workshops? Why do you do farm tours? But most importantly, why are you a farmer?
This form of online marketing is called "content marketing" and is completely free, depending on how you slice it. Answering these questions for the conscious consumer who visits your website and social media pages is going to grow trust and, subsequently, grow your farm's profits.
HOW ONLINE MARKETING TRANSFORMED OUR FARM
My partner and I run two successful e-commerce businesses, the farm being our most recent venture. My greatest asset when it came to starting the farm was my online marketing experience, so I put that to work first and foremost as we geared up to launch our roadside farm stand. And let me tell you — it's paid off handsomely.
We hit our supply ceiling within one month and didn't even have to travel to a farmers' market on the weekends to do so. Now we struggle to keep up with demand. But thanks to our online efforts, we also have the capital to expand our operation if we choose to do so. These are good problems to have!
Aside from guaranteed customers, the best part of implementing a solid online presence is the smile I see on first-time customers' faces when they stop in to buy something. They know me even though we haven't met. They jump right into a conversation about the importance of local, organically grown food as if we were good friends. By frontloading the work and building trust online, I have made not only loyal customers but dear friends.
Commenting on the future of e-commerce, Aaron Orendorff, former editor-in-chief of the major shopping cart platform Shopify, said it best: "The future will manifest itself in relationships. Choice isn't tomorrow. It's today. Direct and meaningful connections to customers that include but extend far beyond mere products."
Allow your farm the opportunity to build direct, meaningful and lasting connections with your perfect customers so you can continue to do what you love: growing and raising healthy food.
To discover how to use online marketing to grow your farm's profits and to learn more about permaculture farmer Kelsey Jorissen, visit her at greenwillowhomestead.com.