Updating the Roxbury Farm Vegetable Crop and Harvest Manuals for Wider Adoption
By Jean-Paul Courtens
Let me give a brief introduction before I get into the meat of this article. I am a native of the Netherlands, having grown up in the city of Amsterdam. Nevertheless, I had this "crazy" notion of becoming a farmer. I completed a four-year training in biodynamic agriculture at Warmonderhof, which provided me with a foundation and appreciation for both the natural world and commercial agriculture. I came to the U.S. in 1986 and founded Roxbury Farm in 1990.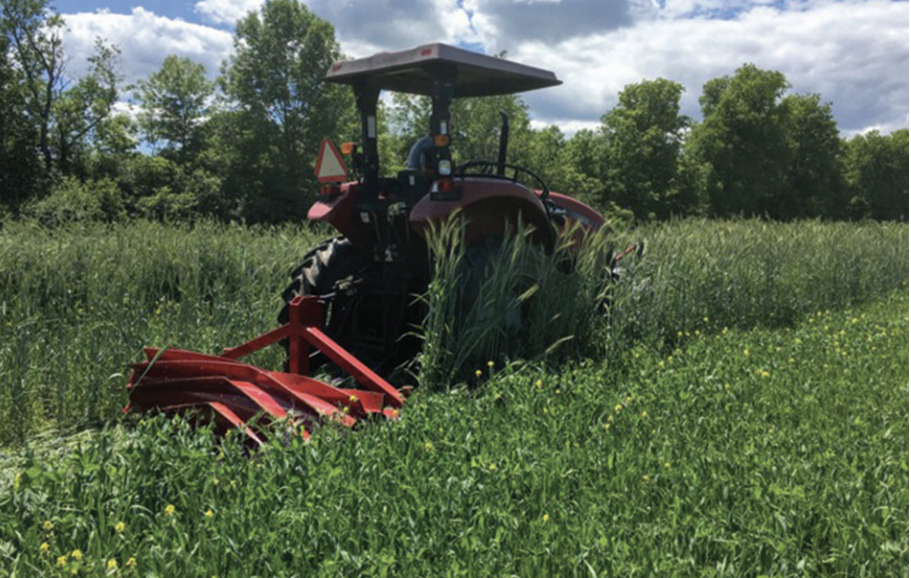 This operation grew from a fiveacre market garden into a 425-acre integrated biodynamic operation serving 1,100 CSA shareholders with vegetables, beef, pork, lamb and chicken. We were able to secure land for future generations by placing the land in a land trust, and we developed tools to ensure that the improvements and housing continue to remain affordable to future generations of farmers. I left Roxbury Farm in 2018. Today, my wife, Crystal, and I operate Philia Farm, where we focus on research and the production of seed and vegetables for a local market on a much smaller scale.
In this article I will focus on the manuals I developed while owning and managing Roxbury Farm. These were originally part of a production manual to help educate the employees and apprentices at Roxbury Farm.
In the mid-1990s I was confronted by my then business partner, Betsy Cashen, for announcing on a whim what would be planted or seeded. She expressed that having a seeding and planting schedule would be a helpful tool for communication. Before this, all information was kept in my head; to her frustration, I would rattle off lists when asked for them, giving the crew little time to remember anything. With her help, I realized that withholding information creates an unhealthy power dynamic and that sharing information is the first step one can take toward a real partnership.
Later, Betsy requested more information, as she not only wanted to have insight into the planting schedule but also the harvest standards, crop rotations and cultivation practices in written form. During the winters, I started to write down all the parameters of expected crop yields, market value, marketable harvest standards, row and plant spacings, varieties used and number of successions, weed cultivation practices, what greenhouse tools and trays to use for which crop, transplant or harvest readiness, biocontrol and rates, seed plates to use, etc. All of this facilitated not only good communication but also allowed the farm to become systematized. People became not just empowered and educated but also more effective.
Around that same time, in partnership with a few farms in the Hudson and Pioneer valleys, we developed an apprenticeship training program called CRAFT (Collaborative Regional Alliance for Farmer Training). As part of the program, apprentices from other farms visited our farm, and we showed them our employee handbook, which included all the seeding and planting schedules, crop rotations, cultivation practices, fertility management practices and harvest and post-harvest standards. They requested a copy, as they felt that having this information would be a great help as a beginning farmer. Initially we provided a hard copy, but once we had a website, we posted these manuals online.
The manuals were never written to be a universal reference sheet, but by making them available through the Roxbury Farm website, farmers all over the U.S., Canada and Mexico started to use them. Thousands of individuals accessed, printed and downloaded these manuals (e.g., reprints by Organic Valley for their Amish member farmers). People approached me at conferences (or took the time to write an email) with testimonials of how instrumental the manuals were when they got started farming. Each winter I would update the manuals if new information became available or if our practices had changed.
Due to having taken on other obligations besides Roxbury Farm, the manuals were no longer updated after 2012. As a result, some information (like spraying recommendations or post-harvest procedures) became severely outdated or were simply incorrect. I was aware that while it was nice that many farmers considered this to be a great resource, the information was still only based on parameters and practices specific to Roxbury Farm, and the harvest and post-harvest procedures desperately needed updating.
So, in 2019, I applied for and received a farmer grant with Northeast SARE (Sustainable Agriculture Research and Education). My proposal was to edit and update the manuals and to ensure the horticultural, harvest and post-harvest procedures would reflect the latest FSMA (Food Safety Modernization Act) regulations, grower experiences and research. The objective of the grant was to offer organic vegetable growers a trustworthy manual that provides succinct information when planning, planting, harvesting and packing a common vegetable crop.
To make the manuals a more universal resource, I surveyed 22 successful market farmers to gain their input on the most used row spacings, the average yields of different vegetables, the common disease and insect issues, and what prices they receive at farmers markets, mini-wholesale, and wholesale markets. Finally, to confirm the manuals are following current federal and state regulations and reflect the latest research on the efficacy of the methods described in these manuals, Cornell Cooperative Extension Vegetable Specialists reviewed the materials prior to publishing.
The provided answers showed a wide range of harvest and post-harvest rates. I have not been able to assess where the range came from, but one can assume that there are no universal methods for harvesting products and that some answers were estimates. Yields also ranged widely between growers — this might reflect soil quality and nutrient and water availability.
There was much greater agreement on what the most pressing disease and insect problems are with specific vegetable crops, helping us determine what the manuals needed to focus on in the recommendations. The remedies that farmers provided in the survey were not included in the final crop manual. For this, the new manuals reflect the latest university research on organic controls.
Varieties that were popular among growers were incorporated to an extent, but hyperlinks to variety trials conducted by extension and universities were added to provide more neutral recommendations.
Prices received had a range based on where the products were marketed and what time of the year they were sold. At times, the answers growers provided were completely out of range with our own experience; this could be a numerical error in submitting the answers or it could have been a result of the context. For example, spinach in the winter months can receive up to $15.00 per pound, but this is rarely received by growers when it is in season. Having had access to a larger sampling would have provided results with a more meaningful average. The recommendations provided in the final edition of the crop and harvest manual were therefore moderated by how we perceived the existing landscape of the Northeast vegetable grower. To make the numbers more meaningful on pricing, price reports from several organic wholesalers were obtained as well to give a more realistic average return to the grower for the products.
Recommendations for organic insect and disease controls and fertilizer were updated based on input from participating growers and by incorporating the latest research or recommendations provided by land-grant universities. Post-harvest procedures reflect the latest FSMA regulations as recommended by the FDA.
The hyperlinks in the manuals connect growers directly to more information or the source. In the research, the focus was to use sources by universities and other well-respected institutions. Given that some growers today source much information from YouTube and social media, the manuals are nudging growers to depend on more peer-based research for information.
In rewriting the manuals, I had the opportunity to read up on the latest recommendations regarding pest control and food safety measures and to learn of other growers' practices. It was fascinating to see the diversity of approaches. In the Netherlands, there are no different ways of doing things — there is literally one procedure to harvest lettuce, and every grower follows the tradition that has been firmly established. Those traditions change as new research proves there is a better way, and then it is quickly adopted by most growers — often to increase efficiency and profitability, or simply for food-safety reasons. This uniformity seems almost nonexistent among small organic growers in the Northeast, as many are self-taught and have not been exposed to industry standard procedures.
As the manuals are available in a virtual manner, we will be able to update them as needed. My hope is that this eventually will become a living document and, ideally, an open-source resource. While we spent countless hours researching and reviewing, the manuals can increase in quality with further input and possible corrections from other participants.
Many thanks for the generous support from Northeast SARE and its staff, and to the growers who contributed their expertise to the manuals.
You can find the manuals at either SARE's website (https://projects.sare. org/sare_project/fne20-950/) or at Roxbury Farm (roxburyfarm.com).
Jean-Paul Courtens founded Roxbury Farm in 1990 and currently operates Philia Farm in Johnstown, New York.
Editors note: This is an article printed in the April 2023 Issue of the Acres U.S.A. magazine.