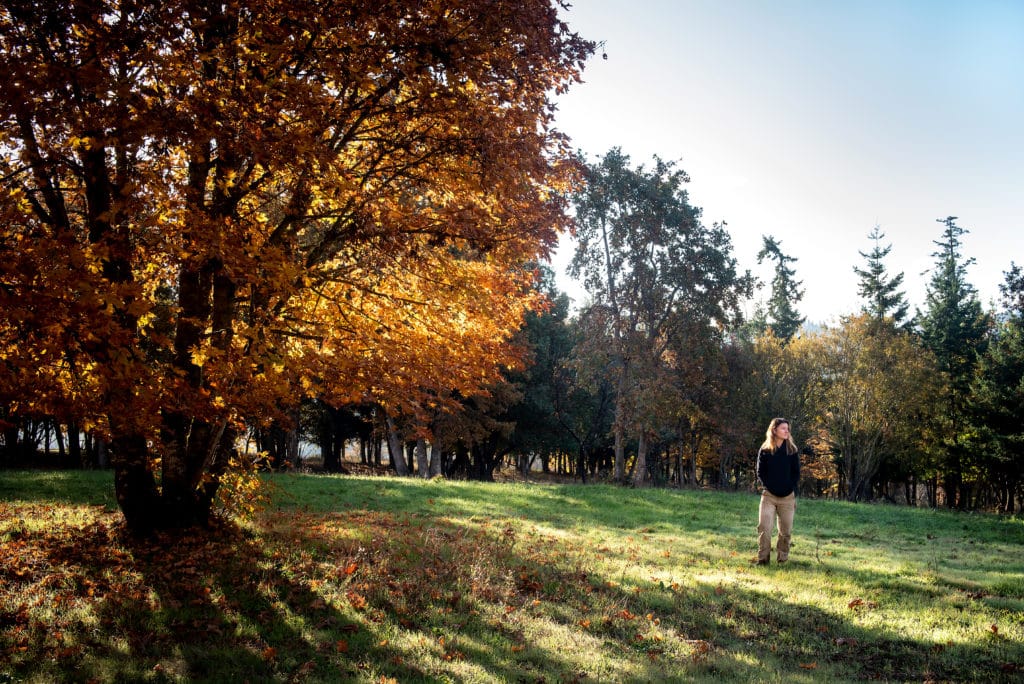 BY ALLIE HYMAS
This has been a momentous year for discussing systemic change, both in the halting of normal life during the COVID-19 quarantine and the widespread dialogue surrounding race in America following the murder of George Floyd. Food systems are inseparable from these conversations, and farmers have to grapple with how to nurture and protect people from all walks of life. For those committed to long-term ecological and social wellbeing, the question during these times remains "How can I do better?"
Mimi Casteel of Salem, Oregon, has spent her life wrestling with this question. She offers a unique perspective for white farmers wanting to acknowledge their privilege, pursue justice and move toward a more equitable and regenerative future. "My approach is to assume that people, like ecosystems, really want to be cooperative, work together and heal together," Casteel says about owning Hope Well Wines, a beyond-organic vineyard. "Let's blow open every single door and think, 'If everything were possible, what would that look like in respect to my farm and the people I work with?'"
Casteel's outside-the-box thinking has resulted in an ecologically flourishing, successful wine business that employs workers year-round with full benefits and retirement. In contrast, federal law allows farms and vineyards to remain exempt from providing insurance to agricultural workers, even those who work over 30 hours. Many injustices still plague agricultural work environments: Oregon state law requires crop businesses to make up the difference when piece-rate or pound-rate wages fall below the minimum wage of $11.25, but the law offers no accountability, requiring workers to dispute these disparities with their employer, which they are often reticent to do for fear of retribution.
Hope Well dials in a multi-species approach to growing grapes that seeks high production, water retention and soil health, while keeping the equitable treatment of workers as a first priority. Casteel believes these things are not in conflict but come from the same set of values. "There's so much broken with how we view our relationship with people and with nature," she says. To Casteel, you can't effectively heal one of these things without the other. "The way we do agriculture has to change: it's not just our practices; it's our entire culture."
---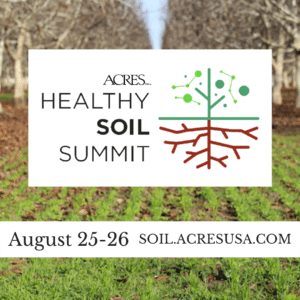 Mimi Casteel Joins 2021 Healthy Soil Summit Speaker Lineup
Learn practical, economical approaches to soil health management at the 2021 Healthy Soil Summit! Mimi Casteel joins our regenerative farming experts to provide two full days of educational content. Join this virtual event from anywhere on Aug. 25-26 and learn how to create a real ROI for your soil health management system.
---
The Hope Well Story
Casteel's parents started Bethel Heights in the Willamette Valley in the 1970s, transforming a degraded walnut, cherry and apple farm into a vineyard. While her family instilled a strong appreciation for agriculture and its impacts, she was initially drawn toward botany, wilderness ecology and conservation as a career. However, the more time Casteel spent doing field work in the wilderness, the more she recognized that land degradation in agricultural spaces was the biggest threats to the remote locations she was working to conserve. She knew something about how to change that. "That is where I learned I wasn't fighting the right battle," she says, "If I really cared about these spaces, my roots in agriculture was where I needed to go."
Casteel's strongly integrated mindset is what drives her focus on regenerative agriculture. "When I was in college and doing my graduate work, I never wanted to imagine systems without all of their integrated parts functioning at the highest possible capacity." To Casteel, studying agriculture and the natural sciences is impossible without understanding all the connected layers. "Why is it that we think it's so important for somebody who works in chemistry to have a very strong foundation in physics, but if you go into agronomy you take those classes, but then you're forced to forget that stuff or it's suggested to you that those rules don't apply?"
Jumping back into viticulture with a regenerative mindset wasn't simple for Casteel. "I was very honored to come back to my family farm, but I couldn't insist that we change everything overnight." Casteel began focusing her attention on the oldest vines at Bethel Heights, implementing more natural practices to reverse the impacts of a root louse called phylloxera and reboot the vines' productivity. "I started getting very experimental with those old vines, and the successes that I had started to open the minds of my family. It became clear over a decade that if I wanted to do everything I thought was necessary, it was a little too risky to force on my family, and that directed me to break off and start my own project."
In 2007-08, Casteel planted a separate vineyard 8 miles from the Bethel Estate property. Originally, it was meant to be a fallback if the project of reviving the old vines fell through to phylloxera. "This became where I was allowed to work independently and practice a lot of my ideals. I fell in love with this place." Over years of selling the fruit and testing different permaculture and ecologically sensitive viticulture practices, Casteel arrived in 2015 at an intention to fully distinguish her efforts from the Bethel Estate brand and to create the label now known as Hope Well Wines. "It's important to me that we didn't take a pristine bit of habitat and turn it into a vineyard. That is a terrible use of land. We shouldn't be converting any more habitat to agriculture. The focus should now be on degraded land that is being abandoned."
Hope Well's landscape is a striking contrast with conventional vineyards. Instead of bright orange chemicals between the rows, Hope Well has diverse forage growing to feed the sheep that harvest the suckers and effortlessly manure the plants. Birds dart in and out of the root stocks, indicators of diverse invertebrate life. The fluffy soil holds moisture and a panoply of microbes. "Over time we get a deeper connection to the multiplicity of energies that are growing here. There is an exponential threshold with diversity when things start to come back. It becomes quadratic, then exponential. What you see changing gets bigger and bigger every year."
Immediately upon starting her own venture, Casteel recognized that it was her responsibility not only to nurture the land but also to equitably compensate the staff who work on every corner of the operation. "Our workers are such an important part of the story of this place, our wines and our future." She says. "There is a really alarming trend to not only diminish but demonize the people who do the most work in agriculture. Each one of these people has a precious and important story; their experience needs to be elevated in our culture and our lexicon."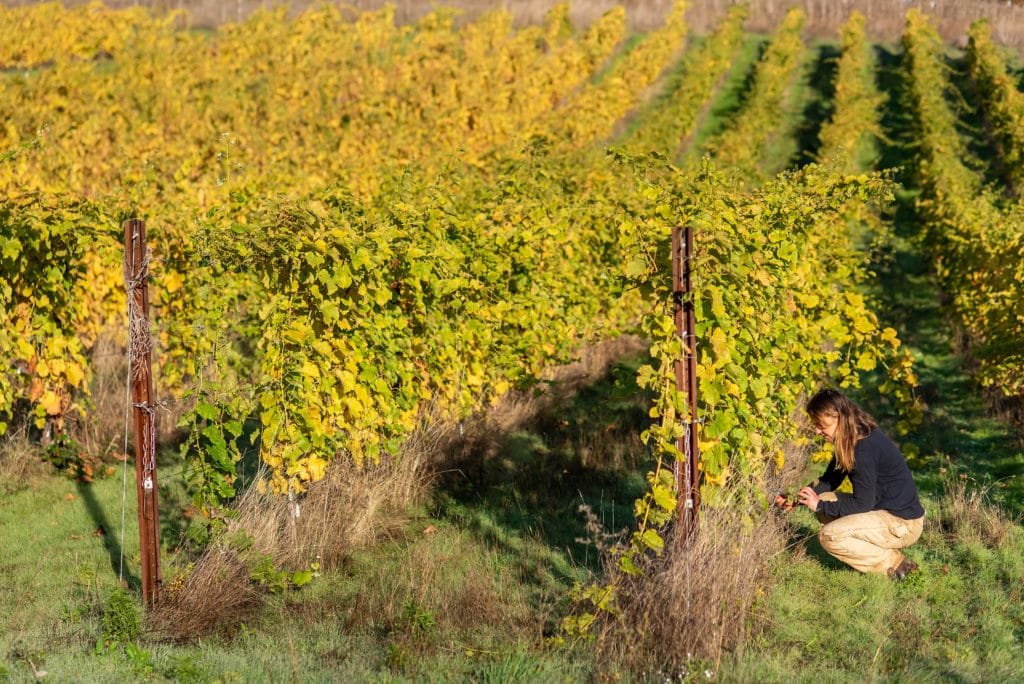 Black and Brown Farmers Matter
In the week after George Floyd's murder, more than a few farmers took to social media with dismissive words such as, "I'm not a racist. I have Black and brown friends, therefore I'm not responsible for the systemic oppression." This moment, however, is a time for humility and for recognizing the ways in which our agricultural system does stratify people in unfair ways because of their background and the color of their skin.
As white participants in farming, the ways in which we have ignored the oppression of Black and brown farmers makes us complicit. "Right now we're talking about Black Lives Matter, but there's a larger conversation about all the cultures we've oppressed," Casteel says. She acknowledges that she didn't always understand how agriculture takes advantage of vulnerable demographics of people. Just as she believes adopting regenerative practices is difficult and costly, but worth it in the long run, she has submitted herself to the process of listening to Black and brown voices, unpacking her own privilege and learning how to dismantle racist architecture in her farm operation.
After all, Casteel says, permaculture itself is adapted from land practices used by indigenous peoples for centuries. "They're the people who cared for this land," she says. "They're the only community of people we can point to who has ever successfully lived with this land without doing harm."
Casteel remembers back when Oregon winemakers first began to address the issue of healthcare inequities for Latinx vineyard workers. Rather than work to address systemic problems so workers could have regular access to healthcare, the community created a nonprofit: ¡Salud!. This fund, fed by an elaborate annual fundraiser, provides a resource to uninsured winery workers for catastrophic hospital visits. "As much as I like the intention behind this, I was horribly uncomfortable with it from the first day." Casteel says. "It's really upsetting to me that this is how we're dealing with what is a completely unacceptable way to treat these people who make our wine."
While ¡Salud! might help stem a small bleed in a gushing hemorrhage of inequity for Oregon winery workers, Casteel is saying that business owners can do more. "We sat down with the budget and asked, how can we fully benefit all of our employees? Per month, it costs $1330.41 for every family and $466.81 for each individual we add [for] zero-pay-in health insurance, but that's what we were paying for every white person who works for the company without it seeming like an extraordinary ask." Casteel says living wages and benefits are simply the cost of doing business. "If you can't be profitable while [ensuring] the human beings who work for you have whole lives at the same level as you, then your land ownership needs to be torn down."
Sustainability and Social Justice
Casteel says that "the work of regenerative agriculture is to repair the functions of the ecosystem: the structure, the gas exchange, the nutrient cycling, the biological productivity. Bringing those functions up to a level that is not only thriving, but truly resilient and able to operate in spite of its surroundings. How we treat the land, how we treat people — it's all the same. Those two things can't be teased apart. We can't heal agricultural woes, solve climate change, address the problematic treatment of the natural world if we can't at the same time address the injuries between human beings."
Learning to adapt her mindset to a regenerative agricultural model helped Casteel to question her assumptions about race. "I always make the assumption that I know nothing and that there's nothing but information coming at me. You have to crack open your preconceptions in order for information to be able to make it past the shields we build up. The same is true with race. As a white person, farmer, land owner, business owner, you're walking in with your shields up, whether that's because you're trying not to offend people to the point of paralysis or trying to defend your point of view."
Casteel says a difficult aspect of reckoning with why field workers were less benefitted than office workers was unpacking the class and race biases surrounding agricultural labor. "People think of it as unskilled or for a certain demographic of people because it's considered drudgery," Casteel says. "I completely reject that." The reason farming has been slower to receive the respect of other highly specialized crafts that directly influence the wellbeing of land and people is the direct result of slavery: forcing de-valued humans to do this work for free. Part of the way Casteel works to dismantle this perception in her sphere of influence is to participate with her workers on every level of the business. To Casteel, nobody is "too good" to tend vines or move the sheep that graze between rows; in fact, those activities require significant prowess that deserves respect.
The regenerative mindset and model isn't limited to Casteel and then distributed to her employees as a series of instructions. Casteel and her staff have spent time learning and discussing the regenerative model so that they're collaboratively building on this method as a team. "It's hard because I don't speak perfect Spanish and many of them don't speak perfect English, but I'm sharing with them the philosophy behind these regenerative practices, so we work together." Casteel says that she would be so limited if she used an exclusively top-down method of leadership. "The thoughts and feelings of all these people working the land could really be saving the world right now, and we don't ask them their opinions."Casteel believes it's not enough just to support her staff in the present. She takes an active interest in their future. "I would only hope to be a launchpad for the people who come and love this work. I don't want to trap my workers here." Casteel says she's constantly offering her employees encouragement about their talents and support if they want to pursue more learning and opportunities. "We need love and intelligence more on the landscape, so if anybody gets impacted by that here I want them to impact others, maybe pursue more education or start their own crew or do the same kind of model."
The way forward is as complex as untangling an entire system, but that doesn't mean healthy systems can't exist alongside the broken ones and challenge norms. Black and brown voices like Chris Newman of Sylvanaqua Farms have been advocating for democratic, cooperative ownership of land where the cost of farming is leveraged by the collective power of groups of farmers who work together to both raise ecological standards and lower food costs. "What would it mean to reclaim the land that has been abused, like child-protective services, but for landscapes?" Casteel asks. "How could that be involved in reparation? Why not have that as a goal?" Casteel thinks giving back land can function not only as a part of reparations, but also as a way to fight climate change and support the regional food system.
Ally in Agriculture
Casteel acknowledges that owning a farm business is some of the most mentally-consuming work. It can be challenging for farmers to pay themselves, much less think about equity toward their employees. "And yet this is the moment when we need to reach out."
Casteel is transparent and honest about how inheriting a place in her family's wine business is an example of white privilege. "For me, this means being as vulnerable and honest with myself as I can be," Casteel says. 'None of us that own land right now can say that we got here fairly, and none of us are trying to make up for that. We're all culpable: nobody has gotten here through boot-strapping. If you're a white farmer, your experience is different. Even just getting in your car and going to the store is a different experience than it is for your brown or Black employees."
This first step can be the hardest for those who are new to this concept or perhaps felt like this process is limited to a specific political party or ideology. Having privilege doesn't make someone bad; it's saying that they have had access to something that everybody should have. For example, every person who is interested in growing food should have access to some land where they can do that, but that's not the case for many people who grow up in inner city areas, a disproportionate percentage of whom are Black and brown due to racist housing policies. Acknowledging privilege looks like seeing that disparity between one's own experience and the experience of a person of color and then recognizing it shouldn't be that way.
Listen to Black and brown voices
It is essential to follow Black and brown thought leaders on social media such as Houston area farmer Timothy Hammond (@bigcitygardener), read books like Farming While Black by Leah Penniman and research the systemic racism in agriculture. But white farmers who have Black and brown staff also need to create an environment for their employees where they can have candid, honest conversations. Listening to her staff has opened Casteel's eyes to the vastly different experience of these Latinx employees. "They get pulled over maybe 60 percent more often than I do for no reason at all. Think about the background stress that that puts on people's lives."
Use your influence to edify
"A lot of farmers really care about and love their employees. Perhaps they would even go as far as to say that their employees are like family. But if you really dive into that what does that mean, does your family get paid the same as your employees? Do they have the same benefits that you have? Do they have the same access to the resources of your community that they have? Are you a part of keeping them from having those resources?"
While Casteel has set a great example for compensating, benefitting and collaborating with her Latino staff, many farmers don't have employees or live in communities where they come into contact with many people of color. This doesn't mean farmers can't be advocates for change and call out problems with systems and organizations. "There's this entire system that needs to be broken down. It's our job to point out the flaws with the way they treat people, the way they treat the land and the way they treat animals."
Be a lifelong learner
Rather than asserting "I'm not a racist," it's important for white farmers to accept that racism exists in the fabric of our experience. Rather than dismiss it, it's our job to constantly grapple with our whiteness and how it impacts those around us. "It's a surrender. It takes a suspension of ourselves," Casteel says. She recommends having compassion toward those who are beginning this journey of asking themselves hard questions, especially compassion towards one's self. Authentic change can happen when we properly grieve our mistakes and blindnesses rather than allowing shame to drive us away from the challenging questions.
"I don't buy that we can't change the way that we use land and how we treat people in this country," Casteel says. "If we can't change, then we are admitting that we're done for."
Learn more about Mimi Casteel and Hope Well Wines at hopewellwines.com.
Editor's Note: This article first appeared in the August 2020 issue of Acres U.S.A. magazine. Subscribe here.
Meet Mimi Casteel at the 2021 Healthy Soil Summit!
Mimi Casteel is one of our expert speakers at the 2021 Healthy Soil Summit taking place virtually this Aug. 25-26. Come to learn practical, applicable soil health management techniques and connect with fellow growers from all over the world. Learn more here!