Hosted by Ryan Slabaugh
This episode is a bit unique from the others, which are usually done in the comfort of my office back in Greeley, Colorado. For most recordings, it's me, a microphone, an interview guest and my dog snoring in the corner. If you need the full picture, I even prop a sign up in my windowed door that says, "On Air." But that's really just for me – it makes me feel official.
But so does this scene where I am today. Today, we are broadcasting from Belize, specifically, Belmopan, Belize, at the inaugural Tropical Agriculture Conference. We first met one of the organizers, Beth Roberson, a Belizean farmer, in Columbus, Ohio, last year during our annual conference. Beth left inspired to start her own educational conference down here, picked our brains a bit, and recruited some of our speakers and former Tractor Time guests like regenerative poultry specialist Reginaldo Haslett-Marroquin and Regeneration International's André Leu, among others.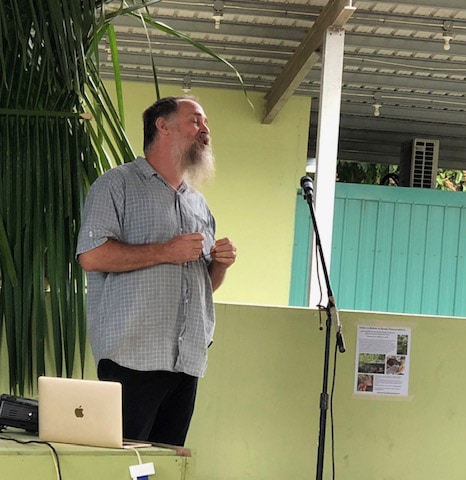 Let me set the stage a bit. Belize is a small country of about 350,000 people, just south of Mexico and east of Guatemala. It's known for having the second largest reef in the world off its coast and for being an English colony until the early 1980s. The country, very proud of its freedom, is still finding its feet. The Guatemalan president threatens them with invasion, and England still has a small standing army there as a reminder to their neighbors.
Belmopan is a small town of a few thousand and wears a few scars. The main roads are paved, but most are not, though a fountain roundabout greets visitors on the Western Highway. A bar-restaurant called "Cheers" greets guests as they arrive into town before a roundabout — I met the owner, and she told me she also runs a "small" farm behind it that includes horses, sheep, cattle, goats and chickens, and yes, she composts from the restaurant. On the other side of the highway, the entrance to a national park. Inside the town, a large agriculture grounds with stages, test gardens and plenty of native trees. This is where the conference was held this week.
The event started with the national anthem, sung by an 8-year-old local schoolgirl. It's clear from the anthem what the country does not want — tyrants and colonizers. And it's clear that they want to be a free country, although they are still grappling with which economy will drive its future: The tourism economy, which favors hotels and airports and large ports, or a more local economy, where manufacturing, agriculture and other jobs will fill the gap.
Agriculture, though, will have some part. It has to. Or at least, it would be prudent, with its varieties of produce, including pineapples, mangoes, bananas, jackfruits, etc. From any of Belize's cities, it doesn't take long to be in the country, where anyone would be taken in by the variety of flora, fauna and wildlife, which range from toucans and jaguars to crocodiles. Our first hour in the country, as we pulled into our hotel, the sounds of howler monkeys greeted us. (You'll have to listen to the podcast for the full effect.)
The next day, the conference began. We heard a resounding call to action from Ronnie Cummins, on the board with Regeneration International, which was followed by two days of educational speeches on five different stages, ranging from permaculture to seed saving to agritourism. All were rooted in how Belize can transform its agriculture into one of the world's best. And no matter what, you have to give something to a country that starts its weekends on Thursday nights.
On the podcast
Here's what clips you can find on the podcast. Also, you'll hear some thumping in the background, and truck noise. I apologize for that recording issue – (I wasn't counting on so much foot stomping on stage when I set up the microphone, nor could I do much about the nearby highway traffic.)
Ronnie Cummins, Board Member of Regeneration International
Here's that talk from Ronnie that opened up the conference. It's about 16 minutes, and full of fire and fury.
Taylor Walker, Biodiverse Systems Designer
Next, a highlight I recorded from Taylor Walker. A jack-of-all trades who designs gardens and permaculture environments, including Naples Botanical Gardens, Inland Ecology Research Group, Sanibel Sea School and others. In Belize, he is managing Tropical Agro-Forestry farms. I'll play a few minutes of his talk, as he walks about 50-60 people in his class through specific plants that grow well in Belize, like breadfruit.
Christopher Nesbitt, Regenerative Agriculturist
Christopher Nesbitt, a regenerative agriculturist, has spent 30 years restoring a piece of damaged land in the Maya foothills. His land is now filled with more than 500 species of plants, all of which are harvestable. His talk was about his work. Here's just a piece about that biodiversity.
Santiago Juan, Agritourism in Belize
Santiago Juan, born and raised in Cayo District Belize, owns and operates a resort farm in the country. He spoke about agritourism and how Belize can use its organic lands, pristine wilderness and local food production to create a unique, authentic experience. One sidenote: his talk was not without some controversy, as some Belizean farmers weren't too sure they wanted hordes of camera-toting Westerners posing with their pigs. But alas, the discussion assuaged some fears, and again showed what is to be gained, or lost, in such a wonderful country, one that is still building itself into an autonomous, self-sustained citizen of the world. (And sorry for the popping on this audio. It was lunch time, and the nearby passing trucks' jake brakes kept blowing out the microphone.)
That's it — and a few rambles from me. Thanks for reading and listening.
Read the highlights from the conference Day 1 here, and Day 2 here.
Find the Tractor Time podcast in the iTunes store, at www.acresusa.com, or right here. It's also available in a bunch of other places too. Thanks for helping grow our food — have a great week.