On this episode, we welcome Mimi Casteel, a wine maker in Oregon's Eola-Amity Hills. At Hope Well Vineyard, Casteel is blazing her own trail and fast becoming one of the leading voices in the regenerative agriculture movement. Mimi talks eloquently and brilliantly — not just about wine, but agriculture and land use in general. As you'll hear, her beyond-organic farm is singular within the American wine world. It's not your typical vineyard, with its neat and tidy rows, it's a dynamic ecosystem that incorporates livestock, welcomes in wild animals, eschews industrial inputs and produces prized pinot noirs. And for this work, Mimi was recently named the Wine Person of the Year by Imbibe Magazine.
She grew up on her parent's vineyard, and winemaking is truly in her blood, but so are wild landscapes, the ones she drew nourishment and meaning from when she was a botanist for the Forest Service. She left that job in 2005 to work at her family's vineyard and eventually started her own on an old Christmas Tree farm. Although it might be a surprising coming from a former Forest Service employee, she believes that the world won't be saved by wilderness areas, but by completely re-envisioning how we grow our food.
Mark Sturges, a longtime friend of Acres U.S.A., referred us to Mimi. Mark is the proprietor of Chili Nervanos in Bandon, Oregon. To learn more about Mark, click here.
Mimi Casteel Joins 2021 Healthy Soil Summit Speaker Lineup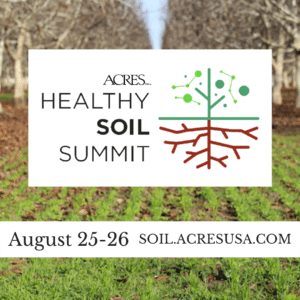 Learn practical, economical approaches to soil health management at the 2021 Healthy Soil Summit! Mimi Casteel joins our regenerative farming experts to provide two full days of educational content. Join this virtual event from anywhere on Aug. 25-26 and learn how to create a real ROI for your soil health management system.