Raising lettuce is like constructing a sturdy building: success starts with a solid foundation. In the case of agriculture, that foundation is, of course, the rich, biologically active soil into which your crops sink their roots.
Sponsored
Sponsored by Heliae® Agriculture
With all the challenges that growers face, it's easy to overlook soil health. It's common to think the soil will be there when you're ready to plant, and you'll simply apply fertilizers and pest control agents as needed to nurture the crops on your way to what you hope is a good harvest. Unfortunately, fertilizer alone isn't enough to create fertile, supportive, productive soil for lettuce and other leafy greens.
To maximize your lettuce crops, their foundation must have the right balance of available nutrients, microbes, and moisture content. Achieving that balance benefits the crop in multiple ways. First, superior soil improves root health so plants can find and absorb the materials they need to thrive. Optimal soil balance also improves drought resistance and disease tolerance, minimizing losses from these causes.
Then, at harvest time, the benefits of healthy soil are seen in increased yields and longer shelf life. And from a relationship perspective, this means happier customers as well as loyal retailers who come back to you season after season.
Proven Results
Microalgae-based soil amendments are known for improving soil health and microbiome balance, with astounding results. One field trial showed increased head lettuce yield by 111 cartons/acre above grower standard in a Salinas, California, field trial. That's a return on investment (ROI) of 7:1 on yield increase alone.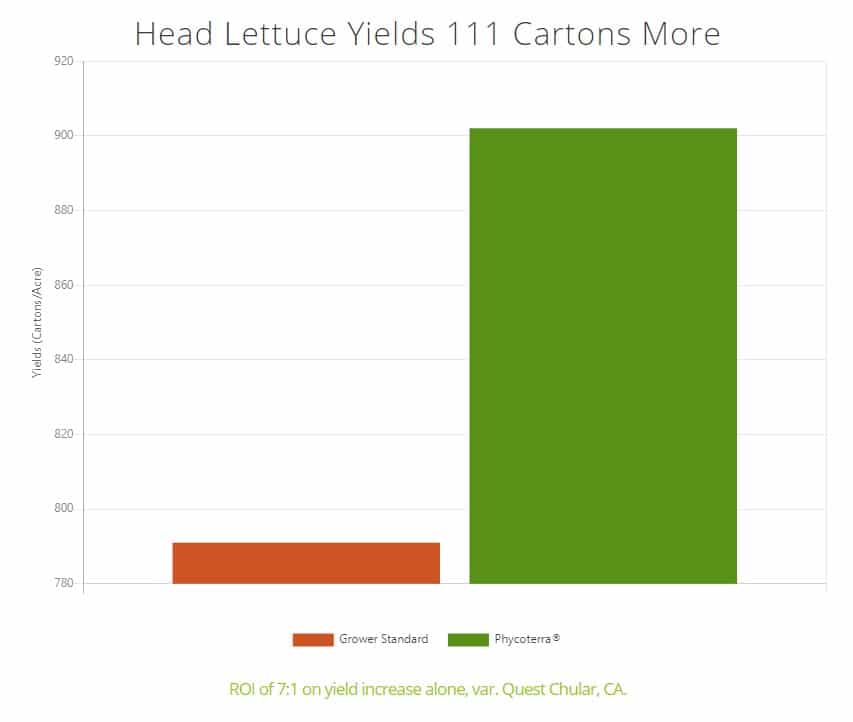 How exactly domicroalgae-based soil amendments deliver this type of improvement in crop quantity? There are many factors that come together to help growers enjoy higher yields. One is the product's ability to enhance soil microbe growth. These products also improve soil aggregation, reduces dissolved solids run-off, and increases soil protein content. This causes improved soil water-holding capacity, ensuring plants have access to critical moisture.
However, improved soil quality does more than just increase biological productivity. The microbial "superfood" provided by soil amendments also reduces salt stress from irrigation water on sensitive leafy greens. In fact, the correlation between lettuce dry biomass and improved soil health and quality has been documented in a study by Knight, et al.
Increasing the Value of One of Your Most Important Assets
Beyond the many short-term benefits that microalgae-based soil amendments provide, they also help growers increase the value of one of their most important assets: their acreage. With the focus today on regenerative and sustainable agriculture, the product is a game-changer at both ends of the field lifecycle.
In newly cultivated acreage, these amendmentsenable them to produce robust crops. In older fields, the increased nutrient bioavailability and greater water retention give soil a "new lease on life" and extend their viability significantly.
Especially for growers that aren't in a position to acquire more land or growing rights, keeping fields productive longer is essential to ongoing success. Pair that with the fact that those acres are producing more lettuce that is less affected by crop stressors, and it's clear why growers with healthy soil gain a strategic edge in the increasingly competitive agriculture industry.

Sponsor Message
Switching to a new soil amendment—or any type of product for that matter—involves an element of risk. "Why move away from an approach that's producing reasonably good results?" is a question that every grower wisely asks when hearing about a new product for the first time. Heliae® Agriculture understands and respects that reluctance. As a leader in supporting healthy soil goals, the company developed the innovative PhycoTerra® microalgae-based soil amendment to provide essential soil nutrients and benefits to organic and conventional growers. And to give their customers peace of mind, the company implemented the PhycoTerra® Product Performance Guarantee, allowing growers to trial PhycoTerra® products on their most challenging fields risk-free. If they don't see a noticeable improvement, Heliae® Agriculture happily refunds the purchase price for enrolled acres up to the suggested retail price.
To learn more, or to get more information about soil amendment opportunities, contact the professionals at Heliae® Agriculture by calling (800) 998-6536 or visiting phycoterra.com/lettuce.