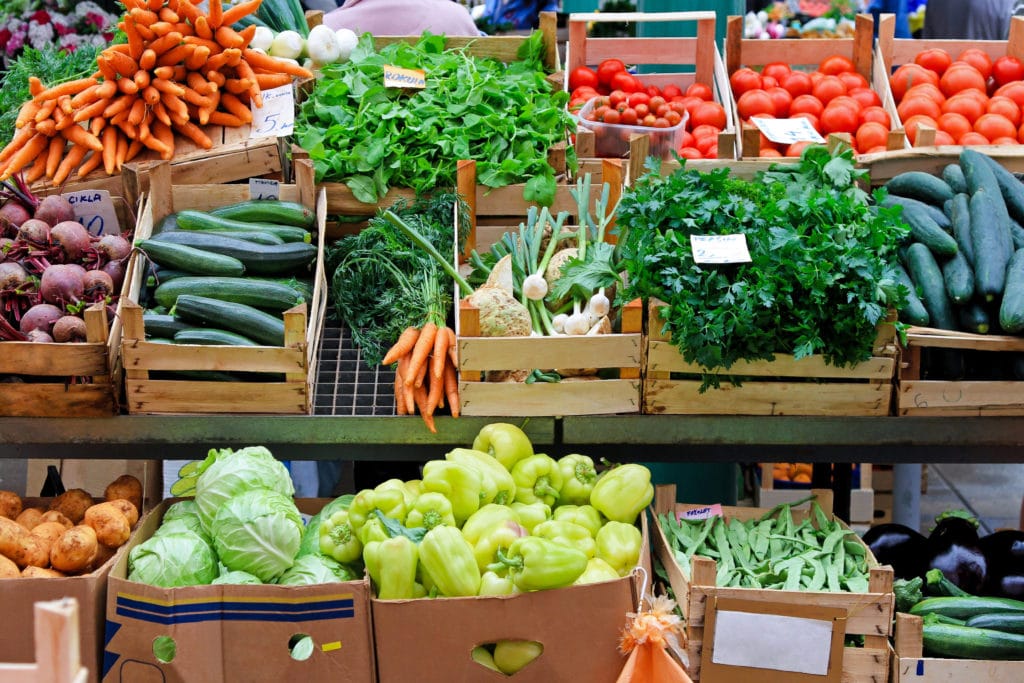 By Leigh Glenn
From a "social distancing" perspective, shuttering farmers' markets where people congregate may seem wise. But from the standpoint of helping people maintain good nutrition and greater immunity through the freshest and highest quality food possible? Perhaps not so much. But the farmers, growers and producers who tend to sell direct-to-eater at the markets are finding some inventive workarounds, including coming together in cooperative fashion to pool their wares, providing eaters ways to pre-order and pick up—which eliminates the possible spread of the virus through cash-handling—and even offering home delivery.
In St. Petersburg, Florida, with its huge Saturday Morning Market, it was not the market coordinators, but the city that decided to close the market, which had closed the week before the decision was made because the city was hosting the Firestone Grand Prix, an event that was also cancelled over the fear of spreading the new coronavirus.
"The city made the decision and I wrote several emails to them," says Saturday Morning Market director Gail Eggeman. She offered to change the market so that the 12 farmers and 15 prepared-food vendors could continue to provide food safely.
"The food found at Market is important to people and to our community," she says. "We have a SNAP program that offers match up to $40 for farm food. It is important to me that we have … small farmers selling in our community. It will hurt as this is our best growing season."
Nearby grocery stores, of course, are still open, but with limited hours to allow employees to clean.
The farmers' market in St. Petersburg had already had pre-paid sales through a website, StPeteOnlineFarmersMarket.org, with various pick-ups available. And after some back and forth, the city agreed to allow a customer pick-up.
Farmer Ellen Trimarco, with who Cole Turner, owns and operates Little Pond Farm in Bushnell, Florida, typically sees a steady stream of customers at the market, which is about an hour south of the farm. When the market opens, they have robust piles of rainbow carrots, all kinds of greens, boxes of red, yellow and orange sweet peppers, strawberries, turmeric and other herbs, plus flowers. The two, along with their crew, decided to cancel the farm tour they had scheduled for March 15 and had gotten somewhat ahead of the market closure, in that they decided to offer pre-ordered, pre-set vegetable share boxes for non-members of their CSA — people who might normally have bought from them at the market.
Asked how farmers are coping, Trimarco says, "Some with a CSA model are just accepting a cut in wholesale and markets and trying to do the best they can. Some are doing more home delivery."
Trimarco, who was an infectious-disease fellow at the Centers for Disease Control during the H1N1 outbreak, says they "immediately thought we would do a box since it is the most low-touch offering and customers can pre-pay, eliminating the need for our staff to handle money and put themselves at risk."
With roots in St. Petersburg, they "hit up community Facebook groups and all of our friends asking them to share our online store with veggie boxes," she says. "It worked! People really want to help get nutritious food out there and the community support for our operation was evident, too. We are committed to getting our food out there and in the hands of our members, so it's time to get creative!"
Farmers aren't dwelling on the disparities between market closures and grocery stores remaining open, though they certainly understand the connection between the importance of what they grow to people's health as well as food security.
"I think there is a connection there," Trimarco says. "While grocery stores are being bought out, farms are growing acres of produce nearby. The ties we have made with our community over the past seven years are evident as we can come together and be nourished, and nourish our community, in a time of need. I think small businesses can be resilient like that, because of that connection. It's a great reminder to reconnect if you haven't already, after this is all over, with a farmer in your area."
At the farm, Trimarco and Turner printed the CDC information page about COVID-19 so that the crew understands what it is. They also created new requirements for hygiene and discussed that at their morning meeting. Some of those requirements include washing and sanitizing hands — on-farm and off, especially after touching surfaces; changing gloves if they've touched their face or common surfaces when harvesting; and ending the practice of doing a community veggie box for the crew from market leftovers. Instead, the crew will harvest what they need directly from the field. Trimarco says they also are not reusing containers or boxes.
"Every precaution is necessary," she says. "The CDC states produce kept in refrigeration for a few days will not have contagion, but we want to protect each other and our customers."
Other farmers who typically sell at the Saturday Morning Market are working cooperatively, where someone whose main products are meat, poultry and eggs may be selling pre-ordered/pre-paid produce, bread or ferments on behalf of other small farmers and producers.
Up north, the Virginia Farmers Market Association (VAFMA) on St. Patrick's Day urged members, farmers and customers to contact Virginia Agriculture Secretary Bettina Ring to urge her to equate markets with grocery stores for purposes of COVID-19 containment policies. Certain markets, such as Charlottesville's, which are operated under the city's Parks & Recreation department, have closed for now, though the state has not mandated farmers markets to close.
Brent Wills, president of the Virginia Association for Biological Farming, which shared the VAFMA's petition letter to Ring, sees "a definite increase in awareness of local food production." The markets in his area — Roanoke — which are run by the nonprofit Local Environmental Agriculture Project (LEAP), will stay open, but with enhanced guidelines for vendors and customers. These include asking customers to wash or sanitize their hands; spacing out vendor tables; pre-bagging produce as well as asking customers not to handle the produce, but to point to what they would like and have the farm crew bag it for them; reducing the number of people congregating; discontinuing children's activities and asking customers, if possible, not to bring children to the market; ending food sampling; and forgoing card processing fees to encourage people to pay by credit or debit to minimize cash-handling.
Wills and his wife, Anna, operate pastured pork and poultry farm Bramble Hollow in Montvale, Virginia. They aren't too concerned about COVID-19's impact on their business, because they've anticipated such shake-ups in the commercial food supply and rely on their own ability to adapt and maintain resilience. Their intention is to meet the immediate needs of their customers by minimizing farm visits and encouraging a central, outside meeting place for picking up farm products. They'll also box orders on-farm to limit handling and invoice in advance and urge online or credit-card sales to reduce hand-to-hand exchanges of cash and checks. And like some of the producers in West Central Florida, Bramble Hollow is working cooperatively with two other farm to scale up CSA shares to reduce in-person contact while diversifying their product offerings.
But they also want to help people who rely on commercial supply lines for most of their food to look not only to local farms, but also to their own back yards.
"A backyard flock of egg layers is where most people begin in this effort," Anna says. "I think this may mean an increased demand for pullets and day-old chicks from local sources. So we are setting more eggs for incubation than what our farm may need, to be in a position to provide stock for backyard flocks when the demand rises. Will people with the space want to have a few more tomato plants and maybe branch out into some other vegetables? I hope so!"
Brent Wills says it's a shame it takes something like COVID-19 to create the opportunity to highlight food security and access. But it also is an opportunity for small farms to shine. Anna Wills agrees. "Small farmers are resilient," she says. "Small farmers are able and eager to continue to provide safe, clean and nourishing food. I think small farms will be the thread that holds together community food systems when others may begin to unravel."