Interview by Allie Hymas
Kelsey Jorisson Olesen is the owner and operator of Green Willow Homestead in Franklin, Wisconsin. In addition to running her sustainable, low-waste farm featuring pastured chicken and organic vegetables, Jorisson Olesen provides online classes and materials to farmers who want to improve their marketing, sales and customer communication strategies.
We asked Jorisson Olesen to give us some tips and advice to share with farmers who want to protect their farm income during the COVID-19 health crisis and continue to provide healthy, immune-system-supporting food, especially when people need it the most.
Acres U.S.A.: A health crisis like the one we're facing presents both challenges and opportunities to farmers. Describe what makes farm-fresh foods such a valuable intersection of our offerings and customers' needs right now.
Jorisson Olesen: With the current outbreak of Covid-19 we are in an extremely unique position to be of service to our potential or current customers. Online sales are surging right now. As more and more people are working remotely and wisely choosing to stay home, e-commerce has exploded. I've had multiple farmers share with me how their online shop sales have tripled in the last week.
Customers are craving security and safety during this scary time. The thought of going to a grocery store poses a myriad of risks to someone during the Covid-19 outbreak. The grocery store could be out of what they need, they could be immune-suppressed, or they simply don't have the means to get to a grocery store as public transit systems begin to shut down.
By dealing directly with a local farmer, they can speak to an actual person in charge. You know what your farm has in stock, you may have the capability to do at home delivery or community drop-offs, and you can adapt much quicker than a grocery store chain as events unfold.
Acres U.S.A.: To be honest, I feel a bit guilty about discussing this crisis in the context of my business. What can I do about that? What language should I avoid to not sound sleazy? What language should I focus on to bring it back to the fact that I legitimately have something that people need right now?
Jorisson Olesen: To put it simply, when customers have a problem, your businesses' job is to solve that problem. There is absolutely nothing sleazy about solving your customer's problem through your farm's products. As more and more people are unable to get what they need at a grocery store as our supply chains begin to buckle under Covid-19's pressure, your farm that sells direct to consumer is an immediate solution to this issue.
The best language to use is to first acknowledge what is happening in the world right now. Bring attention and acknowledge awareness of Covid-19 with your wording. Then, put yourself in your customer's shoes and ask yourself what pain points are they facing right now:
Are they scared to leave their home because they are immune-suppressed or elderly? Then acknowledge that scenario, explain how customers can order online, and offer up a solution by delivering to their door.
Are they concerned because in the past you've only accepted cash in hand? Then address that you are now taking payments online and thoroughly explain how it works for your tech-challenged customers.
Are customers scared you are going have things go out of stock? Then acknowledge that fear and address it with your farm's particular situation.
You need to walk your customers through the process of how your farm can safely get food in their bellies. Selling is always psychological, and the more you can acknowledge your customer's problems or fears and then soothe them with solutions the better. There is no need to feel sleazy about this, you and your farm are helping people.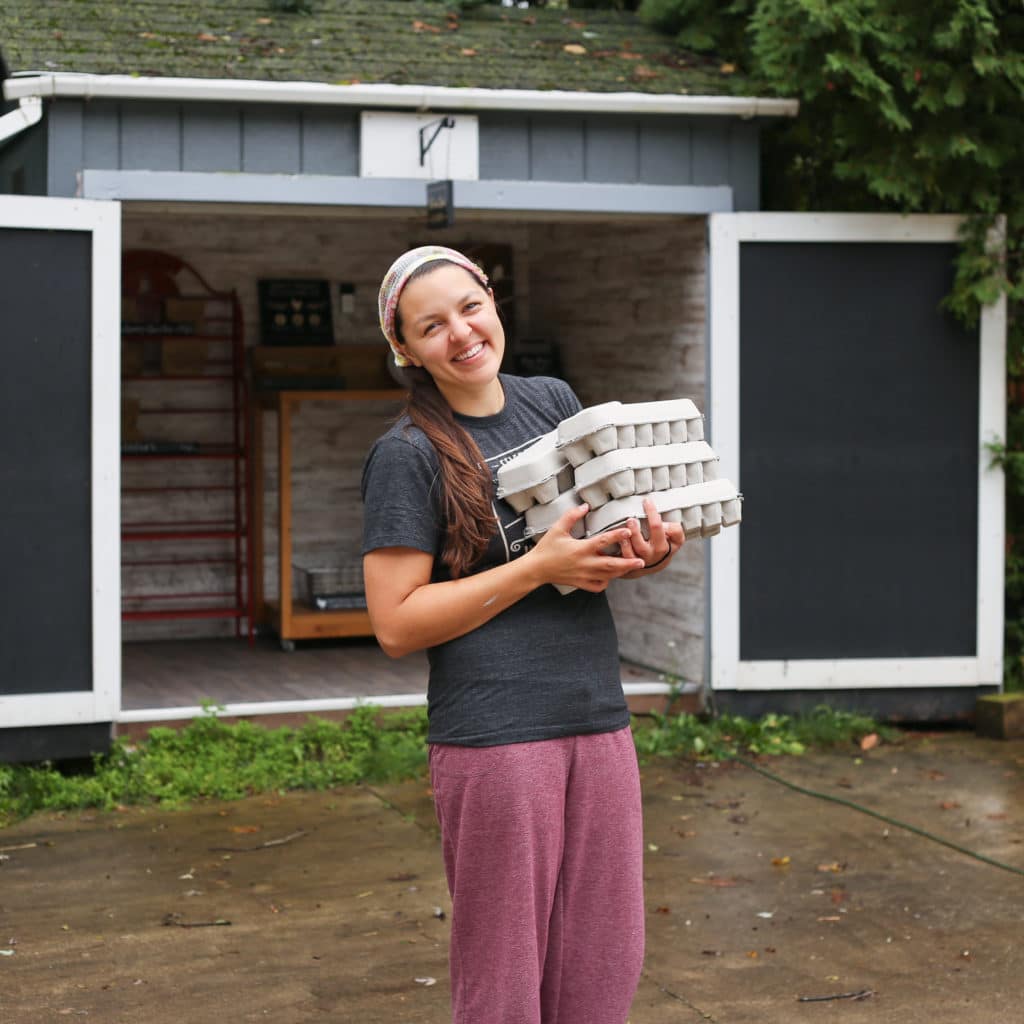 Acres U.S.A.: What are some solid strategies for keeping sales up during the COVID-19 outbreak? Can you list additional ways farmers can market their products without in-person events like the farmer's market?
Jorisson Olesen: To keep sales up during Covid-19 you need to first consistently maintain your farm's presence online. This immediately builds discoverability for potential customers in your community as more people turn to the online world to support themselves. What this looks like in action:
Start posting to local Facebook Groups and get your farm's presence and products out there.
Get your email marketing software set up. Email marketing allows you to gather potential or existing customers' email addresses and communicate directly with them. The added benefit is that while not everyone has a social media account, they most certainly will have an email address. By emailing info out, your farm's message doesn't risk getting lost in the Facebook or Instagram feed's algorithm (psst! Mailerlite is offering three free months to new users to help small businesses).
Start posting blogs on your farm's website explaining how your farm is going to work through Covid-19 to serve its customers then share those posts on Facebook, Instagram, and in your email marketing.
Network with other local farmers immediately so you can refer customers to each other in the event that there are shortages. Create a game plan on how you can support each other during this rapidly evolving situation. Customers will feel taken care of, as will your fellow farmers.
Ask existing loyal customers to share your farm's website with three friends in the area or share your page to their own profiles to spread the word.
Post daily during this time, whether it's a simple peaceful video of you working with your hens or an informative post on how you are offering a specific product. Consistently builds trust, trust leads to sales.
Most importantly, have an online shopping experience for your customers. An online store is crucial during this time. This doesn't necessarily mean you need to ship products, you can fulfill orders by doing community drop-offs, home delivery, or on-farm pickup.
Acres U.S.A: Why is e-commerce important to farms, now more than ever?
Jorisson Olesen: As more and more people are working remotely, sheltering in place, and practicing social distancing, we as farmers have a responsibility to shift with these turbulent times to keep our customers fed. With farmers markets and restaurants closing down, our cash flow has to turn to online purchases or our farms won't have the capital to survive either.
Consumers were evolving and beginning to favor online purchasing experiences long before Covid-19 hit the US, but now it's no longer an option. Having an online shopping experience for customers is mandatory in order for your farm business to survive.
Acres U.S.A: How can farmers make sure they're staying safe while not losing income?
Jorisson Olesen: One thing that keeps coming up for us as well as our farmers we network with is cash purchases. Exchanging cash has become an issue of continuing to spread the virus. We have to allow our customers to pay online for their safety and ours.
When you are doing home deliveries, leave them in front of the door and try not to make contact with customers. Send them a text or give them a call when their delivery has arrived.
For those with on-farm store sales, inform your customers to maintain social distancing while shopping. If you are manning a register, wear gloves and try to let your customer handle as much of the transaction as possible when checking out (don't take their card from them). Have hand sanitizer at the ready!
If you have a farmstand on the honesty system, again encourage customers to not use cash and instead pay via PayPal or Venmo. Have instructions on display as to how they can go about doing this. Be sure to set out hand sanitizer for customers if you have point-of-contact items like a fridge to open.
With both the on-farm store and the honesty-system farmstand, be sure to sanitize regularly for your safety and others.
If you have workshops or classes that you offer on the farm, instead of canceling the class, consider live streaming it on Facebook or Instagram. You can even record it in advance then upload the video file to a secret page on your website that you then share with ticket buyers.
If you already offer online sales, I highly suggest ramping up your drop-off schedules so you can accommodate more customers and get food to customers in a timely fashion.
Lastly, to network and create a game plan with farmers in your area, use a video conferencing app like Google Hangouts, Skype, or Zoom instead of meeting face to face.
To learn more about Kelsey Jorissen Olsen, Green Willow Homestead and The Cultivating Capital Course visit www.greenwillowhomestead.com/courses, Instagram @kelseyjorissen, and Facebook at facebook.com/GreenWillowHomestead.