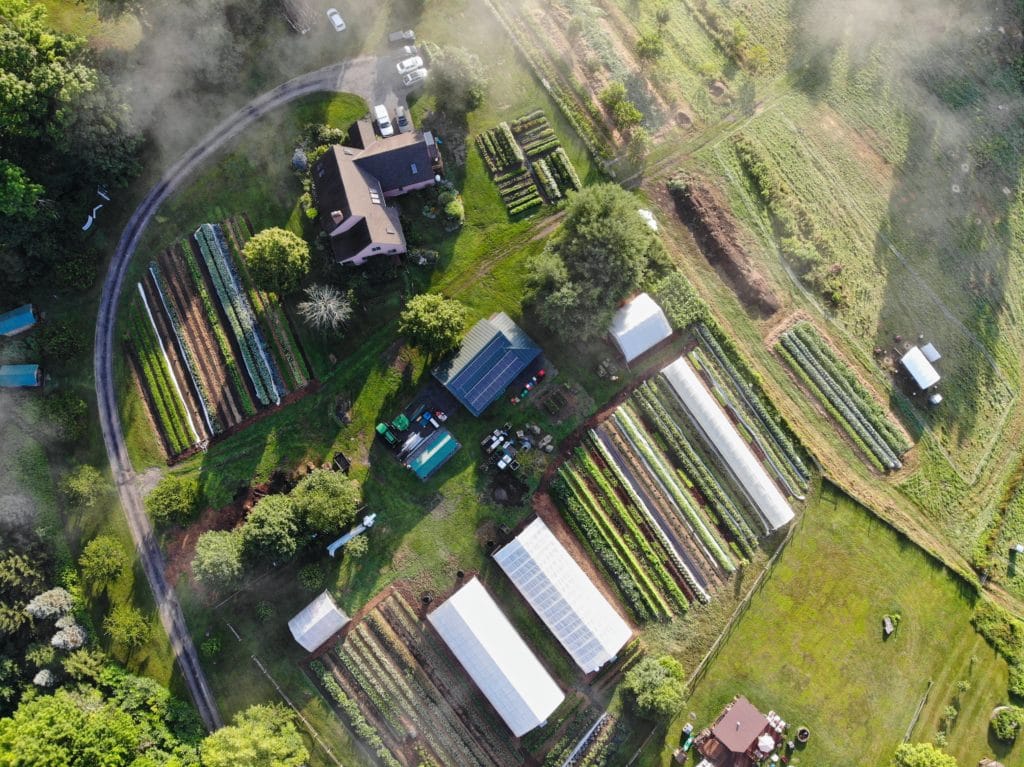 BY TRACY FRISCH
Red Shirt Farm is a no-till operation on 13 acres of hilly land that is realizing its mission of revitalizing the health of its soil. Located in the western Massachusetts foothills of the Berkshire Mountains near the New York border, this diversified micro-farm is a successful enterprise producing quality crops and livestock.
It's been over a decade since the farm began its transition to no-till, a few beds at a time. For farmer Jim Schultz, the merits of no-till are pragmatic.
"We saw for ourselves how bad tillage was for the soil and how much better it was where we didn't till," he said.
Switching to no-till has brought dramatic improvements in the health of their calcareous, silty loam soil and the quality of the plants they grow. They now experience less insect pest and weed pressure, and earthworm populations have increased dramatically.
Besides not plowing or turning the soil and using only minimal, shallow tillage, Red Shirt Farm uses a number of regenerative practices, such as mulching and cover cropping. Jim doesn't like to leave bare ground, even between beds. To prevent weeds from establishing and soil quality from deteriorating, walkways get heavily mulched with old hay or composted wood chips.
Raising healthy food is a central goal at the farm. Jim strives to produce nutrient-dense vegetables and the farm abstains from the use of all biocides (insecticides, fungicides and herbicides) and synthetic fertilizers. He follows the re-mineralization program developed by Dan Kittredge of the Bionutrient Food Association and works with Advancing Eco-Agriculture, John Kempf's company. And although the farm follows organic principles and practices, Jim has chosen not to get it certified.
A Farmer on the Bench
When he retired at age 53 in early 2015, Jim and his wife, Annie Smith, who works full-time as a registered nurse, started Red Shirt Farm. This summer marks their sixth year of commercial production.
Although Jim is a second-career farmer, he is not new to agriculture. As a young man, Jim had immersed himself in organic agriculture before turning his attention to making a living and raising his family. The farm's name is a somewhat obscure reference to his long hiatus from farming as his primary occupation. "To redshirt" is a verb that refers to the sidelining of an athlete with lots of potential so that he can learn the system and make a bigger impact when he returns to the field, explained Jim, who has background in sports and coaching. "We redshirted for 20 years. The kids were growing. We were paying off the land, and reading and learning."
Jim became interested in farming after high school, but he chose a pre-med course of study at Williams College instead. When he answered an ad to housesit and care for livestock for Caretaker Farm owners Sam and Elizabeth Smith while they led a college study trip to Sri Lanka, he met their daughter and his future wife Annie Smith, who was home on winter break. Romance ensued.
Inspired by the experience, Jim took a leave from college to learn to farm. At Sterling College in Vermont he studied sustainable agriculture and worked with draft horses. He also did apprenticeships on several small farms in New England and enrolled in the New Alchemy Institute on Cape Cod to study renewable energy systems, sustainable agriculture, and bioshelter technologies. Jim and Annie then travelled west to complete their undergraduate degrees at The Evergreen State College in Washington, where he managed the student organic farm and double-majored in Ecological Agriculture and Education.
The couple returned to Massachusetts for graduate school. After earning a master's degree in education at UMass Amherst, Jim worked for 26 years as a public school teacher, coach and administrator. In 2000, the couple purchased the open land on which they would build their home and later farm. Jim continued his agricultural education, attending two or three organic and eco-agriculture conferences annually and reading voraciously, keeping alive his dream of farming.
In the early 2010s, Jim and Annie started a very small CSA to test the waters. Interest was strong and initially their CSA doubled in size every year. In the years leading up to launching Red Shirt Farm, Jim had been slowly renovating the land and opening up more and more garden beds. "We were farming before work and after work and on weekends," Jim recounted.
"I retired early because I wanted to farm before it was too late," explained Jim. He decided it was worth sacrificing his pension. "This is what I really wanted to do all my life."
While Jim is the principal farmer, Annie fills various roles on the farm. As the face of the CSA, she greets CSA members on Tuesdays and Saturdays when they come for their vegetables and she orients new members. She also does the farm's bookkeeping, runs the family household, and comes up with the annual growing plan for herbs and flowers, which Jim implements.
Pandemic Pushes Production
Most of Red Shirt Farm produce goes directly to customers through its CSA program, currently 100 households strong, and two farmers' markets. As it has for many small farmers, the pandemic has opened up opportunities for the farm. This year it was able to retail a much larger proportion of its production than in 2019.
Red Shirt Farm is located in a region known for upscale vacation homes and famed arts venues such as Tanglewood, the summer home of the Boston Symphony Orchestra, and Jacob's Pillow, a summer-long dance festival. However despite the appealing image that Berkshire County, Massachusetts, presents to the outside world, many county residents live in small rustbelt cities distinguished by shuttered factories and large pockets of poverty. Most notable is Pittsfield, where General Electric left behind a toxic legacy of PCB contamination.
Wealth and income disparities not withstanding, a strong demand for locally grown food emerged several decades ago in Berkshire County. For more than 25 years, the community organization Berkshire Grown has helped sustain this demand and pride in local agriculture.
Until this year, Jim was reluctant to add a second farmers' market. The best area markets take place on Saturday afternoons so the farm would have needed another truck, more canopies, and additional employees to participate in an additional farmers' market. But during the pandemic, with farmers' market customers carrying out transactions online, those sticking points disappeared and Red Shirt Farm easily added another market.
"You don't have to stand there for four hours. Nothing's wasted because everything is pre-ordered," Jim explained. With this increased market access, the farm doubled its farmers' market sales.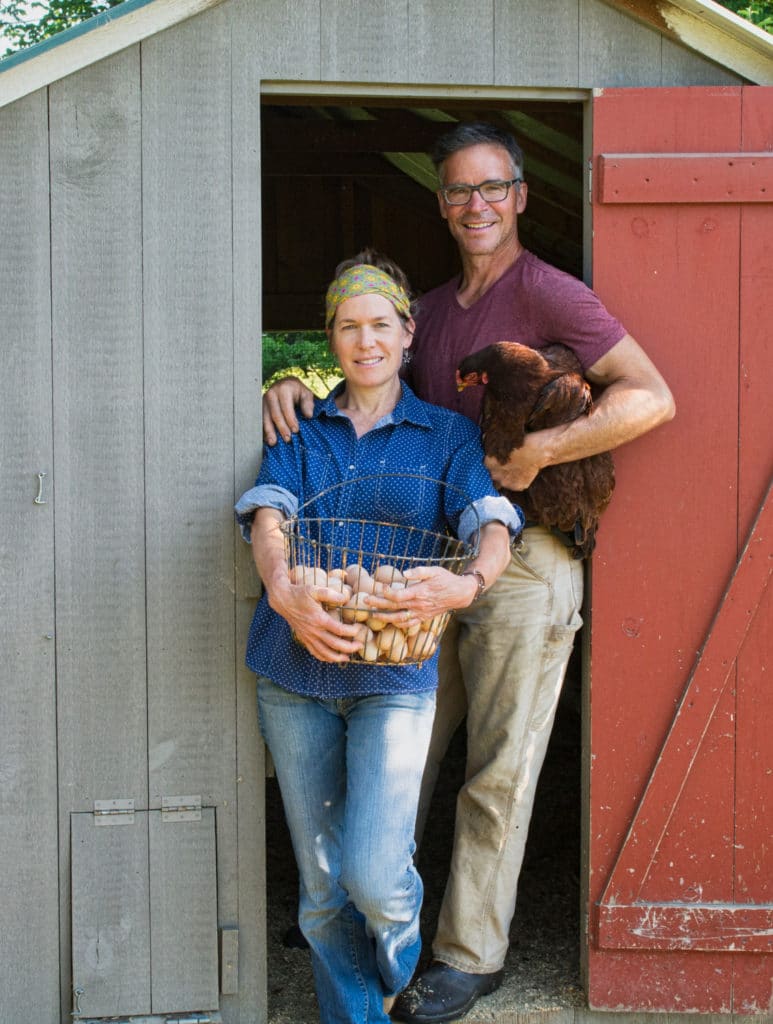 Making Their Beds
As a no-till farm, Red Shirt Farm shies away from disturbing the soil, except when there is no alternative, such as for harvesting root vegetables. This raises the obvious question of how they manage crop succession.
When a crop is done, Jim and his crew make a single pass of the flail mower, which is lightweight and maneuverable, to cut down plant materials and chop them into mulch. Often they can plant directly into this mulch. Otherwise, they re-prep the bed with hand tools.
For a crop like kale or Brussels sprouts with stout stalks, they cut the tops off at ground level in November, leaving the roots in the ground for the microbes, and mulch the bed with hay. Occasionally, crop residues are so thick that they have to rake them into the wheel track. Later they will add those residues back into the bed.
Red Shirt Farm also has other ways to deal with crop residues. During the growing season, they sometimes solarize with a clear plastic tarp. At 75°F, it only takes 24 to 48 hours to kill nascent weeds and accelerate the breakdown of the residue.
Another option is using a black silage tarp to block the sun and cook living and dead plant material and seeds. Tarping this way allows the residues of a chopped crop or cover crop to break down and kills any weed seeds that germinate in the moist, warm conditions. In the winter this process takes months, but in warmer periods it can be completed more quickly.
The main tool Jim uses to make "a nice, fine seed bed" for mechanical seeding is the power harrow. Jim sets it to go down to a depth no greater than 2". It can even be adjusted to only disturb the top half-inch of the soil, he notes. The power harrow "stirs" the soil but does not invert it like a tiller.
No-till methods encourage leaving roots in the ground and more organic debris on the surface. "We'd like to incorporate more of these techniques, but we've had a harder time getting good germination when we direct-seed into a rough bed," he said.
A number of no-till or low-till organic vegetable growers are averse to cover cropping because they lack a good way to kill them without tillage. Not so at Red Shirt Farm, where they seed some beds in winter rye in order to grow their own mulch straw. The walking tractor and its implements give Jim a good system for turning cover crops into mulch that he can use elsewhere on the farm.
However, winter rye is particularly difficult to solarize due to its extremely vigorous root system. In May, the solarization process for winter rye can take three days or longer, three times as long as for many other crops.
Usually, however, Jim favors winterkilled cover crops for fall planting. Timing is always a big factor in determining the most appropriate cover crop for a given situation.
Shifting Irrigation Strategies
Red Shirt Farm mainly relies on drip irrigation, along with some overhead irrigation for germinating direct seeded crops. Until a couple years ago the farm got its water from the house well, which produces 5 gallons a minute. This prevented the farm from watering as few as three beds at a time. Now that the farm has its own drilled well, which produces 26 gallons a minute, it's possible to irrigate all the vegetable beds in a single day. And in a half hour the farm can irrigate six 100' beds with three drip tapes each.
Most drip tape has emitters spaced 8 or 12" apart. Red Shirt Farm favors 4" emitters. That choice is a carryover from when they had to depend on drip irrigation to water newly seeded crops before they germinated.
Drip irrigation also provides the means for fertigation on the farm. Jim uses a Dosatron, a water-driven non-electric injector that meters out the nutrient solution into the irrigation water at the desired rate. He mixes up a 5-gallon bucket with the quantities of different nutrients needed for the area being irrigated.
Over the course of a growing season, fertigation will clog up the emitters on drip tape. "We used to get medium-grade drip tape and save it as long as possible," he said. But after they began fertigating, they switched to cheap-grade drip tape, which they discard after a single growing season. They donate their old drip tape to a start-up nonprofit organization that collects feed sacks and used drip tape to be made into shopping bags.
Integrating Animals
Relatively few vegetable growers integrate livestock into their operations. Despite its small land base, Red Shirt Farm raises animals on pasture. They are central to the farm's mission.
"We have a regenerative farm, in that we incorporate animals into our operations," Jim said. "One of our main goals is animal welfare. We breed and hatch our own birds and process them here."
They also raise feeder pigs, which are likewise slaughtered on the farm.
For the last six years, Red Shirt Farm has also been doing its part to preserve several heritage poultry breeds. Instead of ordering newly hatched chicks as replacements for their layers and for the next round of meat birds, Red Shirt Farm maintains year-round populations of two breeds of chicken and one turkey breed.
Their laying hens are Black Australorps, and for meat they raise Buckeyes, which the American Livestock Breeds Conservancy considers an endangered breed. They also breed Standard Bronze turkeys. Jim said that they are selecting the birds for their breeds' desired characteristics to help bring these them back to their Standards of Perfection.
In a given year they raise about 100 turkeys and keep another 15 or 20 turkeys as breeding stock. They also typically raise 700 or 800 meat chickens and keep a flock of 100 to 200 laying hens. The numbers fluctuate as they raise their own replacement stock and cull birds as needed.
Their farmers' market customers and CSA members count on being able to get their eggs from Red Shirt Farm so Jim and Annie keep laying hens, though eggs are not one of their "main profit centers."
"In the winter we bring the birds up closer to the house where we have electricity. The chickens have a day-run in the caterpillars. We compost their manure," Jim said. Two caterpillar tunnels provide winter poultry housing. Red Shirt Farm has experimented with the Rolling Thunder mobile high tunnel, but they don't have enough flat land to make it worthwhile.
This year, during the pandemic, several curious conventional farmers stopped to talk when they saw chickens out on pasture. Earlier in the season, those farmers were having trouble getting Cornish Cross chickens and wondered about Red Shirt Farm's source. Jim explained that they keep several flocks of heritage breed birds. They agreed that makes sense in times like these, Jim recalled.
While Red Shirt Farm has no intention of becoming a hatchery, they have sold small batches of 20 chicks to homesteaders that want heritage breed birds.
Red Shirt Farm also raises about seven feeder pigs a year, which they buy from a local farmer who prefers heritage breeds. These pigs, which are part Duroc, part Old Spot and part Berkshire, do very well on pasture.
Red Shirt Farm is licensed by the state to slaughter poultry on the farm. They work with a custom butcher to get their pigs killed and processed. They sell their homegrown pork by the half and whole pig.
Grazing livestock and mowing have transformed the lower fields at Red Shirt Farm from weedy brambles into decent pasture. It works well for them to take an early cutting and use that hay as mulch because poultry do better on 8" pasture than on taller grass.
The Hunt for Good Compost
Red Shirt Farm buys about 45 yards of commercial compost annually from area farms. Delivered in bulk, compost goes for $35 to $40 per yard. The compost available for purchase is usually made from municipal leaves, wastes from commercial landscapers, and other plant materials, as well as food waste, smaller amounts of animal manure and sometimes offal from on-farm poultry processing.
Jim is not fully satisfied with the quality of locally available compost. It tends to be sold before it's fully finished — at a stage where it's hydrophobic and too coarse to successfully seed into. And when Red Shirt Farm experiences low germination rates, Jim worries that the compost might contain persistent herbicides, which he is anxious to avoid. "It's hard to find good compost," he lamented.
Jim gets around the shortcomings of his purchased compost by reserving it for certain situations, such as mulching, where "it's less important that it's coarse and unfinished. In our no-till system, we'll leave lettuce roots in and put a 2-inch layer of compost on the bed before the next planting." He also uses purchased compost "to get the biology going and raise the organic matter levels when we open up new beds" on previously uncultivated ground.
Long term, Jim would like to put in an aerated static pile composting system. Such a system uses a fan and perforated pipes to blow air throughout compost windrows in lieu of mechanical turning. At present, Jim makes some compost from a mixture of animal bedding and vegetable scraps laid down in a large windrow, with new materials always added at one end. Jim restricts the width and height of the windrows to keep them from going anaerobic. He refrains from turning his compost because "we don't want to disrupt the fungal hyphae."
After a year, he considers his compost to be sufficiently finished for perennial plantings like orchard trees and berry bushes, as well as for flower gardens and opening up new ground, places where the presence of weed seeds would not be a problem.
Another Kind of Compost
In 2018, Red Shirt Farm assembled its first Johnson-Su bioreactor. It appealed to Jim because of all the benefits it offers. It produces fungal dominant compost with a much wider diversity of microorganisms than conventional, quick-turnaround compost. It also requires far less labor and is odor-free. Turning compost piles to expose them to oxygen destroys fungal organisms.
The materials needed to build a Johnson-Su bioreactor include re-mesh and six 4"-diameter perforated drainage pipes, which are used to create channels for airflow within the bioreactor. These pipes are positioned so that inside the bioreactor, no material is further than one foot from the flow of oxygen. The bioreactor sits on a pallet with circular holes cut for the perforated PVC pipes. The whole bioreactor is wrapped in inexpensive landscape fabric. Once assembled, fungal hyphae rapidly colonize the compost feedstock. Within a day or two, their growth lines the perforated pipes sufficiently to hold air channels in place, and the pipes are removed.
The bioreactor is a temporary structure that produces finished compost in one year's time. Part of the assembly process involves filling the bioreactor with whatever feedstock is to be composted, which at Red Shirt Farm consisted of raw dairy manure from an organic farm, wood chips and leaves. The materials are layered alternately every 6 inches, finishing with a layer of wood chips on top to act as a cap.
In the desert Southwest, where David Johnson and his wife Hui-Chu Su designed and tested the bioreactor, regular irrigation is required to support fungal activity. Jim took a chance that rainfall in the temperate Northeast would be adequate. The 12-month period in which Red Shirt Farm tried out his first Johnson-Su bioreactor was wet, with at least weekly precipitation, and when he opened up the bioreactor after a year of incubation, the material was moist.
David Johnson has a detailed YouTube video and other instructional resources online, but as far as "how to use the end product, I haven't found as much information," Jim said. The Johnson-Su bioreactor produces two types of material. Most of the compost is a very fine, pasty material that turns into slurry when mixed with water. Jim makes it into a spray that serves as a soil inoculant. He scoops out the other type of material from along the bioreactor walls and wherever there are wood chips that haven't fully decomposed. That material is full of fungal hyphae. They sprinkled that onto new beds, also as an inoculant. While they did not do any controlled studies, "Anecdotally, it performed well," Jim said.
Jim has also been experimenting with indigenous microorganisms (IMO) in his high tunnels. However, with so many variables, it's hard to say whether the IMO has had any impact.
Once an Educator …
Jim spent half his life teaching and coaching students in the public schools. As a farmer, he has been able to continue to educate young people.
Every year Red Shirt Farm selects four apprentices, who normally start in April and stay on through November. They generally live on the farm unless they are from the local area. Few are currently in college because college calendars tend not to be compatible with the farm's needs.
Apprentices receive room and board plus $900 per month and access to food grown on the farm. The Red Shirt Farm apprenticeship program focuses on their apprentices' education. They learn much more than how to do the tasks of daily farm work.
Jim strives to expose his apprentices to the knowledge and skills they would need to start their own farm or work as a farm manager or in other non-entry-level positions. Apprentices also have access to a full library at Red Shirt Farm.
2020 was Red Shirt Farm's sixth year working with apprentices. Asked if any have become farmers, Jim mentioned one former apprentice, a chef without prior farming experience who spent two years on the farm, who is now running a farm on Martha's Vineyard.
Working with Roots Rising is another aspect of the farm's educational work. This local nonprofit organization works to empower youth and build community through food and farming. Its programs engage high school-age students from Pittsfield. Many participants are high-risk kids. Because of its great reputation, it has become very competitive to get into. The organization employs kids in its farm crews and running the Pittsfield farmers' market, and next year it will launch a youth-run food truck program.
Red Shirt Farm is one of the farms that benefits from a Roots Rising farm crew of a dozen kids. They visit the farm one day per week in the summer and one afternoon per week after school during the spring and fall. "It's nice for us to have twelve willing hands for big weeding, composting and tarping projects," said Jim. For example, they tarped the ground for the new vegetable beds between the hugelkultur orchard rows on an extremely windy day. "They were being lifted up by the tarp," Jim recalled.
Roots Rising pays an hourly wage to the young people it employs. They spend a half-day working on a farm and the rest of the day take part in programming that emphasizes self-development, group development and interpersonal and life skills. The curriculum includes educational workshops and culinary and financial literacy.
Jim is excited about the culture that Roots Rising is building. He told me that the organization has an educator that teaches the youth traditional and indigenous songs and that they also create their own songs. Roots Rising has feedback circles called group talk where the youth participants receive feedback from their peers and adult mentors, and also evaluate the adults.
"This is how I wanted school to be when I was a teacher," Jim commented. As a biology teacher, he said he would have loved to have a farm as a learning lab.
Besides apprentices and the Roots Rising crew, the farm employs four to six part-time hourly workers. They work on pick/wash days and one other day of the week. Two of these workers are Roots Rising graduates so they were familiar with the farm and its practices. That's been a significant advantage.
"Regenerative agriculture holds the key to resolving our health crisis and our planetary crisis," Jim said. "To share this is so rewarding and essential, for there are so few resources to train young people."
Tracy Frisch lives in New York State.