Hosted by Ben Trollinger
Hello and welcome to Tractor Time podcast, brought to you by Acres U.S.A., the Voice of Eco-Agriculture. I'm your host, Ben Trollinger, and as always, I want to say thank you to our sponsors, BCS America.
You're probably heard of kamut (kah-moot), also known as khorasan wheat, also known as King Tut's Wheat. It's drought resistant and highly nutritious. It's in organic breakfast cereals. It's in pasta. People with gluten sensitivity can eat it. Artisan bakers drool over it.
It's one of organic farming's biggest success stories. It's a story that's rooted deep in history and that might just show us the way forward.
I'm joined by Bob Quinn and Liz Carlisle, co-authors of Grain by Grain: A Quest to Revive Ancient Wheat, Rural Jobs, and Healthy Food.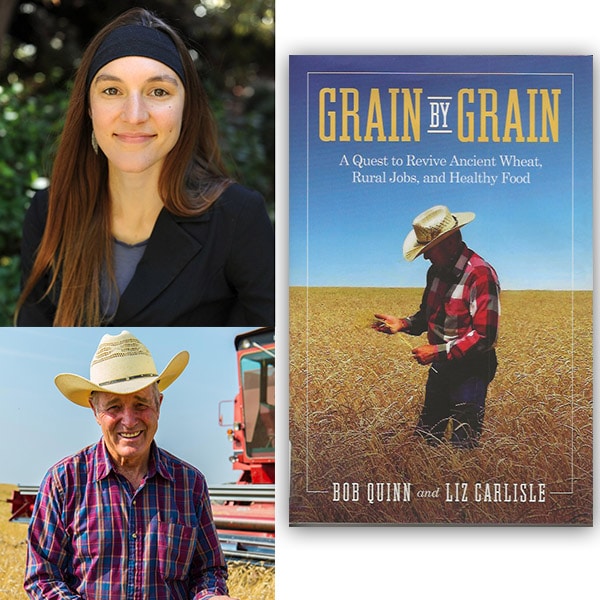 The book details Quinn's journey over the last several decades to turn his dryland farm in Big Sandy, Montana into a powerhouse of organic and regenerative agriculture. Through his multi-million dollar heirloom grain company, Kamut International, Quinn has managed to create a durable network of around 200 organic farmers.
Quinn was also instrumental in shaping the country's first organic food standards back in the late 1990s. Before that, in the 1980s, he helped establish standards for his home state.
Liz Carlisle is a lecturer in the School of Earth, Energy, and Environmental Sciences at Stanford University. Her first book, Lentil Underground, prominently features Bob Quinn's work and also won the Montana Book Award and the Green Prize for Sustainable Literature. She's a forager of regenerative agriculture wisdom — and also a recovering country and western singer.
1 hour, 4 minutes